An outraged mummy blogger had her Instagram account temporarily blocked over the weekend for posting a picture of her young daughter flashing her bare belly.
Courtney Adamo, the London-based writer for the popular Babyccino Kids blog, has more than 38,000 Instagram followers and regularly posts pictures of her children - who, as a mummy blogger, are her personal and professional raison d'être.
Imagine her dismay, then, to find that her account had been disabled on Thursday evening "without warning and without notice", after Instagram users reported her posts as violations of site's community standards. Courtney concedes that she had received a few warning emails from the site, but paid no attention as she thought "it must have been a joke".
Speaking to HuffPost UK Lifestyle, Courtney said: "I've never posted nude photos of my children. I've always posted what I believe to be the most wholesome and pure photos of my family. I really thought that it must have been a joke."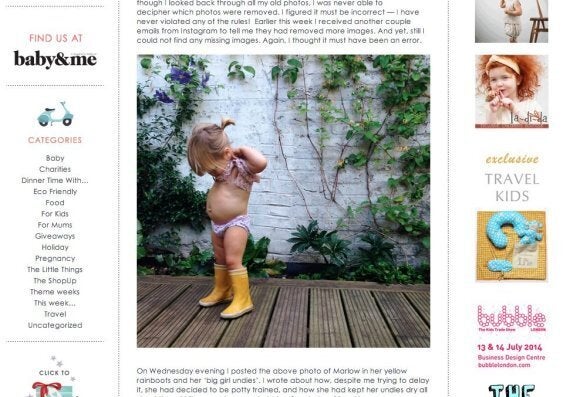 This photo, originally on Instagram, prompted Courtney's account to be disabled
Courtney told HuffPost UK Lifestyle that the account was finally reinstated on Sunday evening, following pressure from the Instagram community online using the #BringBackCourtneyBabyccino hashtag and an arduous struggle from Courtney to get in touch with someone at Instagram.
"Instagram has deleted four years of my family photos and memories: all the photos of our travels, my children's birthdays... All of it gone. I am sick just thinking about it," she wrote on her blog.
It isn't the first time the site has come under fire for its censorship, recently the #FreeTheNipple campaign has garnered support from celebrities such as Scout Willis.
A spokesperson for Instagram told HuffPost UK Lifestyle: "We try hard to find a good balance between allowing people to express themselves creatively and having policies in place to protect young children.
"This is one reason why our guidelines put limitations on nudity, but we recognise that we don't always get it right. In this case, we made a mistake and have since restored the account."
Once Instagram receives a report highlighting posts that may violate community standards, they will investigate. If they find the post to be in violation of their policies, they issue a warning to the account owner and remove the content.
Elizabeth Stansfield, deputy editor of Parentdish.co.uk, says: "The double-standards of social networking sites and their screening policies never cease to amaze me - you see near-nude photos of adults and no-one bats an eye, but a fun photo of a young child enjoying herself with her family is removed.
"It's a similar case with Facebook which – until recently – removed photos of women breastfeeding. Of course all sites need moderation, but surely when a report is made and action clearly isn't needed, shouldn't that be the end of it?"
What do you think of Instagram's decision?