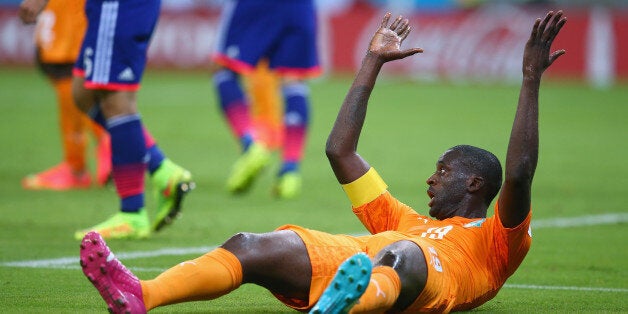 Yaya Touré has intensified his fraught relationship with Manchester City by claiming the club denied him permission to spend time with his dying brother.
And Yaya, in his France Football column, has discussed his younger sibling's passing and accused City of ignoring his request to stay at his bedside after the domestic season had ended.
"I confess that I am still very sad," Touré said. "I'm suffering because I feel I have done nothing useful for him the last few weeks.
"At the end of the season, I wanted to stay for four or five days with my brother before I flew to prepare for the World Cup with Ivory Coast.
"Except that City did not want to give me a few days.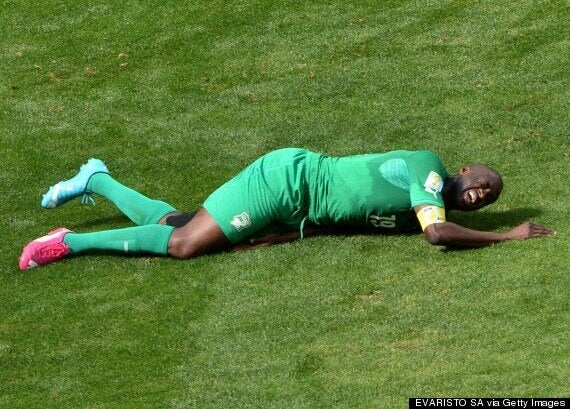 Touré has started both of the Ivory Coast's matches at the World Cup
Touré said his brother's ailing health affected his fitness towards the end of City's title-winning campaign, since his "head had taken control of my body".
He added: "After that I blame myself for not insisting and for not leading them to respect me. However, club officials knew that I had been suffering for a few months seeing the health of my brother decline.
"These last four months have probably been the hardest in my life. I have had sporting success, except that when you get home and you find yourself facing the distress of someone you love, but you do not know how you can help, it's not good."
"I went to celebrate the title championship in Abu Dhabi while my brother was in his sickbed. By fortune, Kolo was at his bedside."
Seluk warned Touré could leave City last year and the year before, yet Touré this time addressed his agent's comments and said "He speaks for me. I will give an interview after the World Cup to explain."
Touré has since deleted his Twitter account.
City have granted a number of players compassionate leave in recent years. Emmanuel Adebayor was told he could take as much time off as he wanted after the Togo bus he was on came under gun fire at the 2010 African Cup of Nations, Carlos Tévez was allowed to attend to his prematurely born baby and in 2011 Pablo Zabaleta took time off with his father following a car crash.