Tonight sees the final episode of 'My Last Summer', which has followed five brave people - laughing, crying, joking, talking, and dying.
They're laughing, crying, joking, talking - and dying.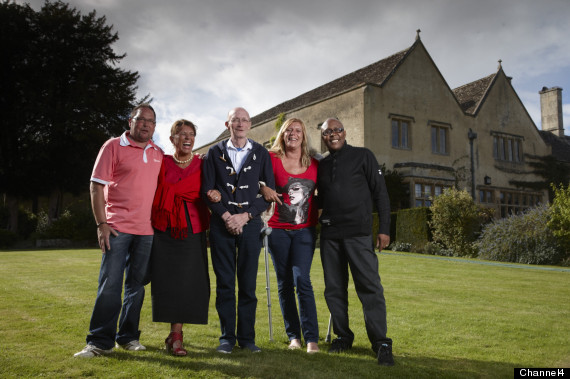 Andy, Jayne, Ben, Lou and Junior come together to talk about what it is to be dying
The group, each from very different circumstances, but sharing a terminal health diagnosis, come together for weekends away where they can talk freely about the challenges of preparing for departure - their fears, the effect on their loved ones, the common feeling of seeing their friends shrink away, as no one seems to know quite what to say.
Series executive producer Kieran Smith tells HuffPostUK that his team really wanted to celebrate the warmth, humour and spirit of the show's participants as well as acknowledging their circumstances.
"It wasn't like normal filming for our team," he says. "People got very tired, so we had to be flexible and sensitive, but they were so brave and open. There was laughter and tears along the way - lots of everything. It took a lot out of everyone - the team, the people we filmed, their families - but the rewards were enormous."
Kieran's ambition was to examine what he says is a huge taboo subject, more so in the UK, it seems, than in other countries where death is talked about openly.
"I really want people who are watching this, perhaps they are ill themselves, to gain strength from it, and learn from it. And for there to be an openness that this will one day happen to all of us, so we have to talk about it.
"We wanted to know if it's possible to have a good death. Looking at the different choices people make - whether to retreat, or to be more open with their families - there's no right answer. Obviously, the circumstances are terribly difficult for all of these people, but we wanted to know... with the right support, actions and attitude - is there a way of making them as good as you possibly can?"
My Last Summer begins tonight on Channel 4 at 10pm.
Like CULTURE OF KINDNESS On Facebook | Follow CULTURE OF KINDNESS on Twitter