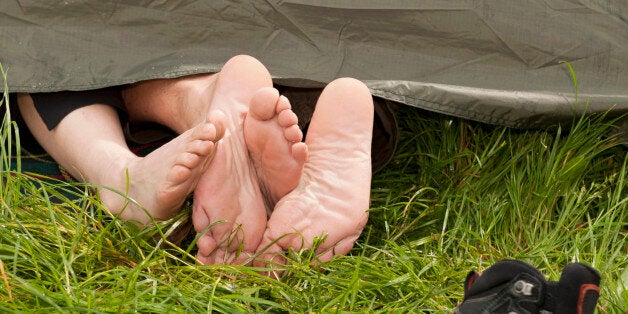 If the legendary Woodstock festival is anything to go by - with its mix of sex, drugs, rock n' roll and limited showers - festivals are supposed to be hedonistic affairs, where people truly let their hair down.
So why is it that whenever someone broaches the idea of having sex at festivals - God forbid - we return to British prudishness and turn up our noses?
In truth, many more people are 'at it' than would let on. (Trust me, I've heard them.)
"Festivals create the perfect atmosphere for sex," says Susan Quilliam, Durex Sex and Relationship Spokesperson. "The anonymity in a crowd allows people to let go, the energy means passions can rise and snuggling up in a tent can lead to all sorts of things."
So why is having sex at festival so taboo?
Alix Fox, Durex Real Feel Sexpert, says that many fear for festival goers clarity of judgement.
"At festivals indulge in booze, powders and potions, and are less in control. Many fear intoxication may lead to bad decisions about sex or undignified behaviour," she says.
That said, when practised with caution, it can be bloody good fun. So here are some top tips for having sex at a festival...
If you're going to get intimate with a stranger you should wear protection - surely this goes without saying. But even if you're in a relationship using condoms at festivals is a great way to reduce post-sex mess.
"No-one wants to spend the night laying inside a squelchy sleeping bag or trying to avoid the wet patch on the roll mat after an intense in-tent seduction session," says Alix.
"Also, if you prefer the skin-on-skin feel, new Durex RealFeel conduct body heat and sensation so effectively that it almost feels like you're not using a condom at all," she adds.
Condom packets can also be easily damaged, she adds, so be careful to inspect them before you use them.
"If you do have unprotected sex then get emergency contraception from the onsite medical team," says Susan. "They will also be able to give you more general sexual health advice."
With limited access to showers (you dirty lot) hygiene is something to keep in mind. Especially if you've only just met your lover, God knows the last time they had a wash.
"Cleansing before and after sexual contact is a must if you don't want to risk infection, so use water and tissues liberally, or wet wipes (fragrance-free ones to avoid allergies)," says Susan.
"Festival sex could well be speedy sex - so make sure you're choosing easy-to-access clothes," says Susan.
"Limited space in tents means that vigorous, acrobatic, sexy-flexy bend-me-like-a-pretzel lovemaking probably won't be on the agenda," adds Alix.
Both Alix and Susan recommend simple missionary or 'spooning' sex - "Both lie on your sides and allow him to enter you from behind," says Susan.
Part of the thrill may be the risk of getting caught, but for most being caught red-handed in the act is enough to turn them off.
"The best approach is to keep the location as private as possible - in your tent or van," says Susan
"When it comes to sex toys, they're a good idea only if they're pretty noise-free - otherwise you could find that when the music dies everyone can hear your vibrator buzz."
Durex offer a whole range of sex toys to maximise pleasure, such as Play Delight and Play Vibrations See here for their full range.