Tennis fans have been warned not to bring Thermos flasks to Wimbledon "for security reasons".
The flask ban means people will have to pay out £2.10 each time they want a cup of tea. Spectators are prevented from bringing their flasks into the grounds by G4S guards at the gates.
Three people were killed and dozens were injured in the attack in April 2013.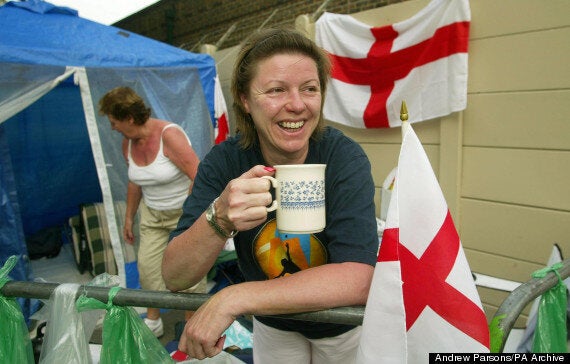 In happier times: Lorraine Wapshott enjoys an early morning cup of tea as she queues for tickets on the first day of Wimbledon 2005
A tweet on the tournament's official Twitter account told people planning a trip to SW19 to check the list of prohibited items, adding: "Don't bring a thermos."
When asked for a statement, a Wimbledon spokesman said: "Thermos flasks are banned for security reasons."
The tweet also included a link to a page on the Wimbledon website that lists items banned on the grounds at the All England Club.
Along with Thermos flasks, the list includes knives, sharp objects, personal protection, and illegal substances.
Asked why Thermos flasks are banned, a Wimbledon official also said: "They are big and bulky and they are hard-sided. This is not new."
The fact you cannot tell what is inside a flask was also highlighted. On the grounds, Pepsi costs £2.40, a 500ml bottle of water costs £2.30, and a coffee costs £2.30.
Spectators are allowed to bring alcohol into the venue but it is "limited to the equivalent of one bottle of wine or two 500ml cans of beer per person".
Caroline Fiennes, a philanthropy adviser and author, told the Daily Telegraph that she checked her flask into the left luggage facilities.
She said she "always thought it rather delightful that one can take in food and drink" and described it as a "disaster", adding: "Of course Brits want to bring tea."
There are 300,000 cups of tea and coffee consumed during Wimbledon fortnight, according to the Grand Slam's website.