The Samsung Galaxy K Zoom is out now in the UK.
4.8-inch 1280 x 720 screen
Android 4.4
20.7-megapixels camera sensor
10x optical zoom with OIS
2GB RAM
8GB internal memory (plus MicroSD)
2,430mAh battery
Hexacore Exynos 5 CPU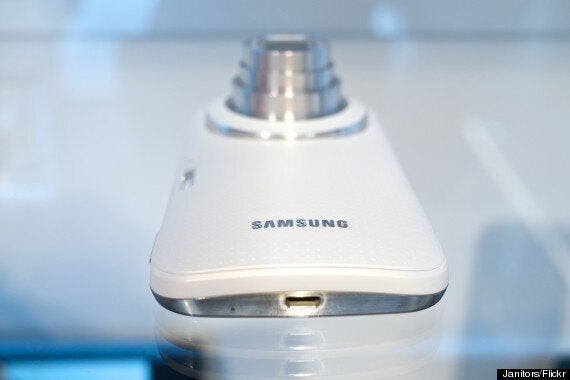 We don't blame you if you think that the Samsung Galaxy K Zoom is a silly, ugly phone. It does look that way in the pictures. And it turns out you'd be at least half right. While it's not outright ugly in person, it is objectively silly. And that's still a bit of a problem.
Smashing a 10X optical zoom into the back of a smartphone has always been a strange and niche idea. While this is by far the best physical execution of it (it's a generally smooth, consistently 'Samsung' phone) the result is still something strange and unwieldy. It's heavy, yes, but top-heavy, which makes it unsettling and unusual in the hand rather than just a bit chunkier than usual.
The overall result is that from the front you wouldn't notice that much difference between this phone and a Galaxy S5, but in the hand it feels like a phone from another decade.
So what do you get for that sacrifice? Well, you get a camera capable of some very clear, very detailed images and all the benefits of a 10X physical zoom. Where is that useful? Say you're at Wimbledon and want to take a photo of the 'slebs in the royal box, as we were the other day. With this you can do that - with a normal smartphone you can't. In fact almost any kind of landscape, journalistic or creative photography is far easier and more flexible with the zoom in hand. The sensor itself is a great 20.7-megapixel beast, and it also has optical image stablising tech, AF/AE separation, a next-gen Pro Suggest mode (among other software gizmos) and the obvious ergonomic benefits of having a slightly larger thing in the hand to take your pictures with.
Unlike the Galaxy S4 Zoom, though, you have to use the software or volume button to control the zoom, not a physical ring around the lens. And there are bigger downsides too. It's slower to take a shot overall than smartphones like the Galaxy S5, and isn't great in low-light from a distance, or in capturing fast-moving objects, given that it actually offers fewer manual options than the HTC One M8 or the Lumia 1020.
The other downside is the battery life, which is average at best and is hampered by the less power-efficient Exynos chip powering the device. You'll get around a day at the absolute max, and if you're using the camera a bunch you'll get a lot less. One of the benefits of having a separate camera and a smartphone is that they have two separate batteries - for the convenience of carrying one gadget you're losing that longevity and ensuring if you lose access to one, you lose the other too.
And then there's the screen which -- to be brutal -- is bad. It's just 720 pixels wide, visibly pixelated with over-saturated colours and compared to the S5, which it resembles, is just not good enough. And is especially a shame considering the great pictures you're going to want to view on it.
In most other respects, the phone operates as you'd expect. It has the same OS software as the Galaxy S5 (read our full review here) and as such is generally solid -- a bit cramped design-wise perhaps, but more customisable than the 2013 models. It also has access to Google Play and its range of camera apps, social networks and everything else you'd expect - unlike most cameras.
So should you buy it? Well you probably already know the answer, If you want a physical zoom lens for your smartphone, and you're not willing to entertain Sony's weird separate-lens-extender gadgets, or the hacky OlloClip style pretend zoom lens solutions, then this is a good option. But if you don't know exactly why or how you'd use it, you're making a lot of sacrifices just to get a hardware benefit you can already get from most cheap mid-range point and shoot cameras.