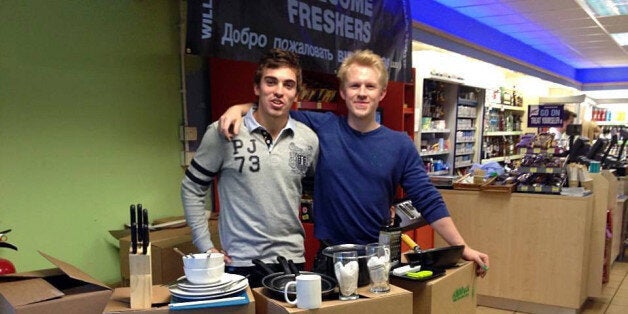 24-year old entrepreneur James Flynn has been a very active businessman, having set up three firms with his business partner Jose Maria Macedo, and other friends from Lancaster University, two of which are set to turn over £250,000 by the end of the year.
The main businesses are BTM Cleaning, which offers one-off cleaning services by students for students, and Kitchpack, which sells kitchen utensils to university freshers, especially international students. He has also been behind the online young entrepreneur community UniEntrepreneur and the development of a new "Social Challenge" app.
Flynn, originally from Oxford, and his Portugese colleague Macedo are behind all the businesses, with 19-year old Salvador Torres and 20-year old Ze Pinto Basto working with the pair on others. The team are fiercely ambitious and are planning to make millions.
HuffPostUK caught up with Flynn to found out how he, Macedo and his friends started their range of businesses and where they're aiming to go.
So James, how did you and your friends get started with your businesses?
We came up with the idea for KitchPack one week before the Lancaster University arrivals weekend, when we knew from our own Fresher's experience that buying kitchenware was a pain.
We were determined to come up with a kitchenware set that didn't suck, so we surveyed 50 students and came up with the set we would've wanted as Freshers.
We then called up 11 different suppliers and negotiated them against each other, managing to get the unit price down 20 per cent from our initial quote and giving us a fantastic margin.
At this point we knew the idea had potential, so we quickly taught ourselves basic web development using borrowed textbooks and online tutorials, building the website and hooking it up with a PayPal button so we could take pre-orders.
We had no money for marketing, so we came up with some inexpensive solutions: we found popular academic forums, found the Lancaster University specific sub-forum and proceeded to message every single fresher we could find about our KitchPacks. We must have messaged 500 people and it paid off, as we secured enough pre-orders to buy 45 units.
We considered the idea validated so we used this capital to pay towards 120 units as well as several Facebook marketing campaigns. We figured out that we could get an extremely high return on investment by targeting audiences with a high propensity to buy, like those who had set their School to " Lancaster University" with graduation years 2016/17, in the most inexpensive demographics, like India and Bangladesh. This paid off and we got 9 more pre-orders with a budget of investment of only £25. We then proceeded to sell out all of the remaining 85 KitchPacks in less than 24 hours!
We were all used to living with our parents and having them clean up after us and the transition to independence at University meant our tidiness took a hit. Ze [Macedo]'s transition was particularly difficult and his room was notoriously messy... I may be being kind here. One day, Ze Pinto Basto offered to clean his room for £5 and the idea was born.
We thought we couldn't be the only ones suffering from this problem, and that there must be others willing to solve it for us. As always, the first step was to validate the idea. First, we surveyed students to find out how many of them would use this service and what they'd be willing to pay. Again, we found out Ze was not alone and this was a real pain point for people, with 96% of people saying they'd use our service.
We then called up competitors and found that they were overpriced, charging £20 per/hour, and often had contractual minimum time constraints.
We now needed to figure out how to actually clean a room. We called up our parents and asked them how they did it, we called over an experienced cleaner we found on Indeed and got her to write down the steps, noting down all the materials she needed. We then cleaned a few rooms/bathrooms for free and optimized the method, coming up with a list of products and step-by-step plan, which even Ze could follow to clean his room in 20 minutes.
Given the prices people said they'd pay and the cost of cleaning materials and labour for 20 minutes, we knew the margins were there to provide this solution. Because we didn't want to spend hours figuring out the logistics of customer and cleaner booking slots, we came up with a system that would allow all this to happen automatically and then outsourced it on eLance for £160, the result was our BTM cleaning website.
Was it hard setting them up?
Being an entrepreneur forces you to learn everything, especially if you're doing stuff on a limited budget. One example is the legal work we needed to do for our last tech project.
We received several different investment offers and needed to draft up shareholders agreements and unique investment contracts for each of them. Since these were relatively complicated and involved not only the direct purchase of shares but a lot of technicalities, like acquiring more equity on the completion of specific goals, it would've cost a lot of money.
We asked law student friends to tell us exactly what we should research and then searched the web for as many investment contracts as we could find and found there was a secret lawyer code to writing terms and clauses.
After adding a few hundred hereofs and hereinafters out came a few 22-page contracts and a 15 page shareholders agreement. We sent them to a lawyer friend of ours to check over and he said it was really well written and asked us where we'd got it done...!
It turned out to be an incredibly useful skill to have and we ended up writing EULAs and investment contracts for our other businesses, probably saving a good few thousand pounds in the process.
Another extremely useful thing we learned was to make the best of free marketing, whenever we approach a new project we always want to validate that it'll get sales or users before investing significant time or effort.
What, or who, are your entrepreneurial inspirations?
Our goal is to be serial entrepreneurs rather than business owners. We're attracted to the excitement and challenge of finding a real problem, solving it and then selling the company and moving on to an even bigger problem. We want to replicate our success again and again by solving problems in different industries and admire anyone who has done just that, like Elon Musk, Jack Dorsey and Mark Cuban.
Our goal is to focus on novelty and replicability but also keep an obsession to make the best product possible for our customers.
Let's talk numbers, how's business doing?
Right now KitchPack is our primary focus. We've expanded to 15 different Universities across the UK as well as supplying several large student landlords, we'll be sold on the National Union of Students website later this year and have a projected turnover of £340,000 in 2014.
BTM on the other hand currently employs 55 workers and has cleaned over 3000 rooms in the past 12 months. We've secured contracts with several large student landlords as well as a small hotel chain and we're looking to expand to 2 other Universities later this year. BTMCleaning is set to turn over £50k this year.
We're now working on a social network that allows you to challenge your world, users set challenges for themselves or others, then crowdfund money from friends to see them happen. The catch: you've gotta prove it happened on video to get the money. We've received 7 figure valuation investment offers for this and we're set to launch in UK Universities later this year.
Where you are planning to take the businesses?
Our goal is to be serial entrepreneurs so our motivation lies in the challenge and excitement of building amazing businesses which solve real problems then moving on to solve the next problem.
For KitchPack, our goal is to expand to 60+ Universities and sell for £1.5 million with the next 3 years. We want to launch BTM at 2 other universities this year and then begin expanding to universities we have a presence in with KitchPack. We then want to expand our business model into a marketplace for other University based services for students, by students, like proofreading and so on. Ultimately, we want to get the revenue and margins high enough that we can hire someone to run BTM for us or sell it.
What is your ultimate aim?
Looking to the near future though, we'd like to move to either Silicon Valley or another entrepreneurship hub like Berlin to be surrounded by inspiring people with similar goals. An ideal situation for us would be to be accepted in an accelerator like YCombinator, meet some of our idols and get a chance to work directly with some incredible entrepreneurs.
In the long term however, we'd like to continue building businesses that solve real problems, with the hope that our success will allow us to solve increasingly larger problems and eventually mean that we can tackle some of the biggest issues facing the world today.