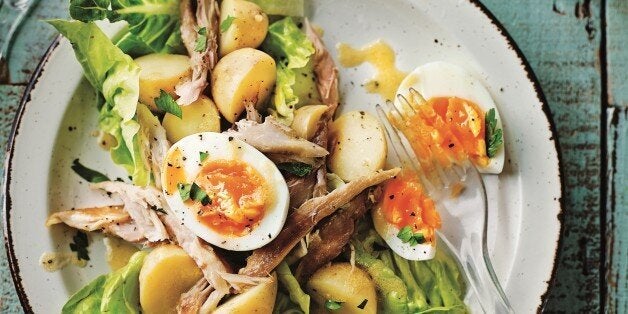 But if the thought of packed lunch reminds you of soggy sarnies and a bruised banana, think again.
Top chef James Ramsden brought out a cookbook dedicated to livening up the nation's lunches.
'Love Your Lunchbox' has 101 mouth-watering recipes to make you the talk of the office, here are a selection to whet your appetite.
New potato, smoked mackerel and boiled egg salad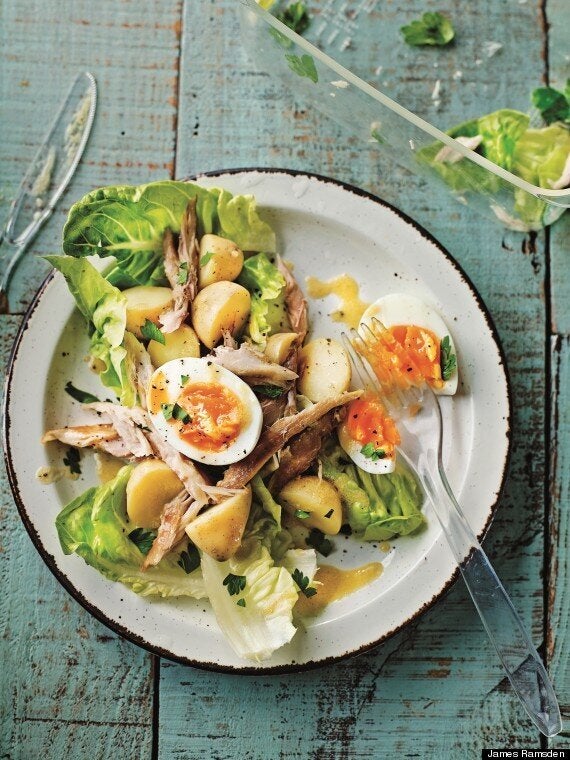 Reluctant as I am to suggest using your lunch as a sort of graveyard for the fridge's odds and ends, you could in theory be somewhat more extravagant with the contents of this salad – some blanched green beans would work nicely, for example, or a handful of black olives – but I've kept this simple for now.
Don't cut up the egg until you're ready to eat or you'll lose all the lovely yolk.
250g/9oz cooked new potatoes
2 fillets smoked mackerel, skinned and flaked
2 little gem lettuces, washed and roughly torn
a handful of parsley leaves
1 tbsp Dijon mustard or horseradish sauce
1 tbsp white wine vinegar
First, make the dressing: shake all the ingredients together in a jar, along with a pinch of salt and pepper. Set aside.
Boil the eggs for 5 minutes, then transfer to
a bowl of iced water. Leave until cool, then peel.
In two – safely transportable – containers, assemble the potatoes, smoked mackerel, lettuce and parsley. Carefully sit an egg among the leaves.
A portion of salad; a portion of dressing.
Quarter the egg. Dress the salad. Eat.
Slow-cooked beef buns with smoked chilli sour cream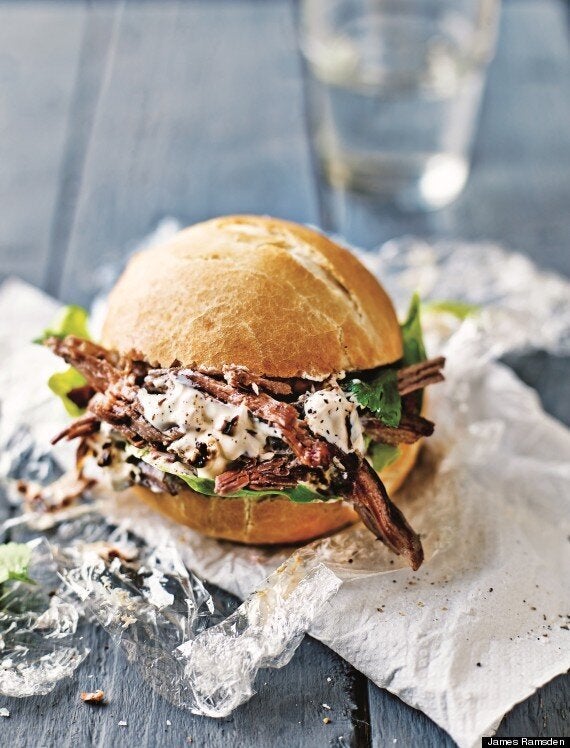 You could use up leftover beef stew to make this sandwich, though you can just as easily cook the beef specially, as here.
Chipotle chillies are smoked jalapeños, which you can find increasingly in the supermarket, or order online. Alternatively, use chipotle paste, or smoked paprika.
300g/10½oz beef shin or other slow-cooking cut, cut into chunks
300ml/10fl oz/1¼ cups beef stock
a splash of beer (optional)
1 tbsp tomato purée (tomato paste)
1 chipotle chilli, or 1 tsp hot smoked paprika or chipotle paste
1 Little Gem lettuce, shredded
a good handful of coriander
Heat a little oil in a saucepan and brown the beef all over, seasoning with salt and pepper. Add the beef stock, beer (if using), tomato purée and dried chilli and bring to a boil. Simmer for a minute or two, then cover and cook for 1½–2 hours over a low heat, stirring every now and then. Once tender, rest for 10 minutes, then shred the meat with a pair of forks. Cool.
Meanwhile, boil the kettle and pour over the chipotle chilli, if using. Leave for 10 minutes, then chop finely. Stir through the sour cream, along with the lime juice.
Pack the buns with the cooled beef and lather with the spicy sour cream. Finish with shredded lettuce and coriander. Wrap tightly in clingfilm and store in the fridge for up to a day.
North African-style chicken broth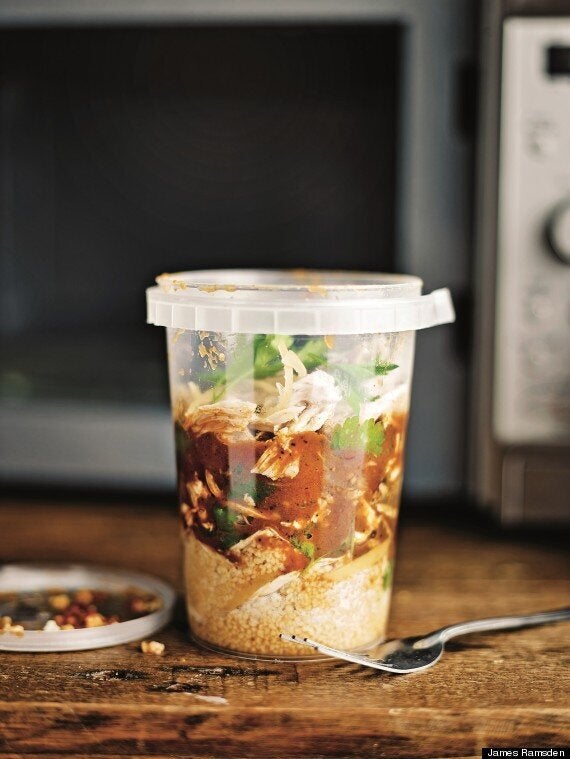 In truth, you could do this with any leftover meat. Lamb or beef will benefit from a longer, gentler cooking time.
Ras-el-hanout is a North African spice blend that you can find in the spice section of most supermarkets these days.
1 small onion, peeled and finely chopped
1 garlic clove, peeled and finely chopped
400g/14oz canned chopped tomatoes
400ml/14fl oz/1 ⅔ cups chicken stock
70–100g/2½–3½oz cooked chicken, shredded
2 preserved lemons, flesh discarded, peel roughly chopped (optional)
Heat a splash of oil in a saucepan over a low heat and add the onion and garlic. Season with salt and pepper, cover and cook for 10 minutes, stirring occasionally, until soft.
Turn up the heat to medium and add the spices. Stir briefly, then add the tomatoes, stock, and a pinch of sugar. Simmer for 7–10 minutes.
Meanwhile, boil a kettle and cook the couscous according to packet instructions.
Stir the cooked couscous and shredded chicken through the soup. If using, add the chopped lemon. Cool, cover, and store in the fridge for up to 2 days.
A portion of broth (in a microwaveable container).
Microwave on medium for 4 minutes, or gently reheat in a saucepan.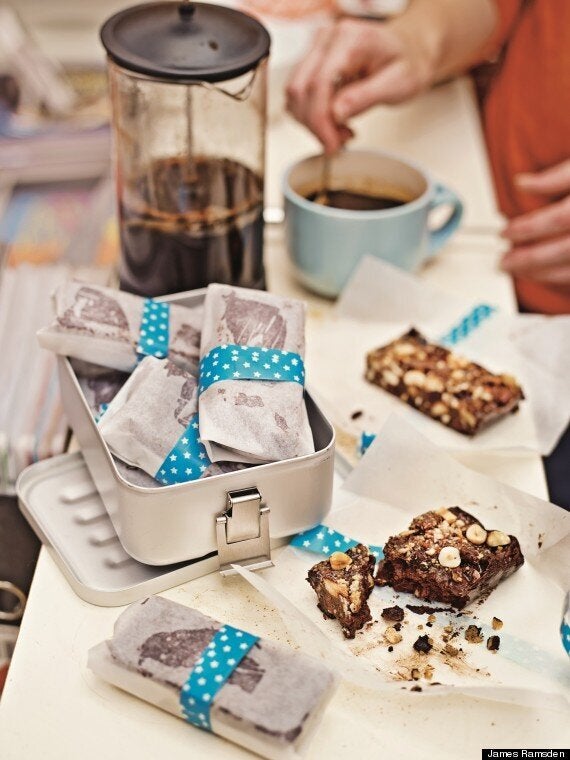 AKA fridge cake. Bound to make you the most popular person in the office.
Prep time: 10 minutes, plus chilling
100g/3½oz/7 tbsp unsalted butter
100g/3½oz dark chocolate, broken up
50g/1¾oz skinned hazelnuts, roughly chopped
100g/3½oz digestive biscuits (graham crackers)
50g/1¾oz chopped dried sour cherries
Put the butter, chocolate and golden syrup in a heatproof bowl over a pan of barely simmering water and melt, stirring occasionally.
Meanwhile, in a dry frying pan, toast the hazelnuts over a medium–high heat, taking care not to burn. Set aside.
Put the biscuits in a sturdy plastic bag and smash up with a rolling pin. Line a cake tin or small baking sheet (about 20 x 20cm/8 x 8in) with clingfilm or baking parchment.
When the chocolate and butter has melted and is glossy, stir in the nuts, biscuits, raisins and salt, then tip into the prepared tin. Cover with clingfilm and set in the fridge for a few hours. Cut into pieces and store in the fridge for up to a week.