Scottish people are more likely than Muslims to say they are not proud to be British, a new poll has found, but the research also showed some non-religious Brits still believe that Muslims should not celebrate their religion openly.
Sixty-three per cent of British Muslims declare themselves proud to be British, while the number who do not share that pride is just 13% – less than the 17% of Scots who say the same.
According to the YouGov opinion poll on behalf of the charity Islamic Relief to mark the beginning of Ramadan, a quarter of non-Muslims believe that the holy month should not be openly celebrated in this country.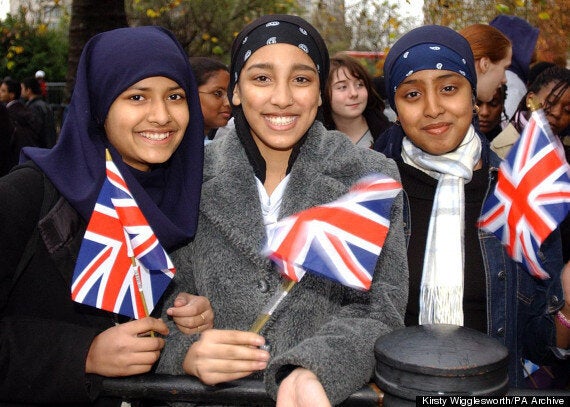 Muslim pupils from Camden School for girls
"This poll paints a very different picture of the British Muslim community from the extremist caricature that is sometimes peddled by certain politicians and in some sections of the media," Channel 4 broadcaster Jon Snow said at the charity's fundraising dinner Thursday night.
"Seventy per cent of British Muslims say they believe in 'freedom, tolerance of others, accepting personal and social responsibility, and respecting and upholding the rule of law' – the core values of Britishness as recently defined by David Cameron – while a tiny 6% do not."
The Muslim Council of Britain has raised fears that the reforms, which will apply to new academies and free schools, could prevent people with conservative Muslim beliefs viewed as incompatible with "British values" becoming involved in school life.
The survey asked 5,216 adults, of whom 2,370 were Christian, 71 were Muslim, 53 were Jewish and 2,437 said they did not regard themselves as following any particular religion.
This year, Islamic Relief's Ramadan appeal will be matched by the UK Government, up to a maximum of £5 million, to fund fund a new project that aims to transform 54 villages in the Blue Nile and West Darfur regions of Sudan, including building 122 new water points close to people's homes.
The survey results come just days after thousands of young British Muslim men from the Ahmadiyya Muslim Youth Association took part in a rally to defend British values and promising to reject recruitment into radical groups.
The three-day event in Surrey included daily flag hoisting of the Union Jack followed by a prayer.
Caliph Hazrat Mirza Masroor Ahmad who spoke at the event said: "Britain has provided a home for people from across the world. As Ahmadi Muslims, we give thanks to Queen and Country for allowing us to practice our faith freely. Islam teaches us to be loyal to the country in which we reside and as Ahmadi Muslims we believe it is our duty to serve the country, to contribute to society and promote peace and good citizenship.
Adam Walker, spokesperson for the Ahmadiyya Muslim Youth Associations said: "ISIS has hijacked Jihad to inflict inhumane and barbaric atrocities in the world. The true Jihad taught by the Prophet Muhammad calls on people to reform themselves in order to become positive members of society.
"While a small number of misguided British fanatics are fighting in Iraq and Syria, thousands of proud British Muslims are here, raising the flag of tolerance, equality, peace and mutual respect – these are 'British values' but they are equally 'Muslim values'."