Charles Saatchi has defended his decision to sell "throttle art" which the art tycoon throttling ex-wife Nigella Lawson, calling it a "micro-genre".
Several images of the moment the collector put his hands around the TV chef's neck at a London restaurant last year are for sale on the website, including one by D Udaiyan for $10,000 and one by Carface Margybab which sold for $251.
The most expensive is Domestic Violence One, on sale for £17,600. It was created by Pete Jones, a former art director at the Saatchi & Saatchi advertising agency.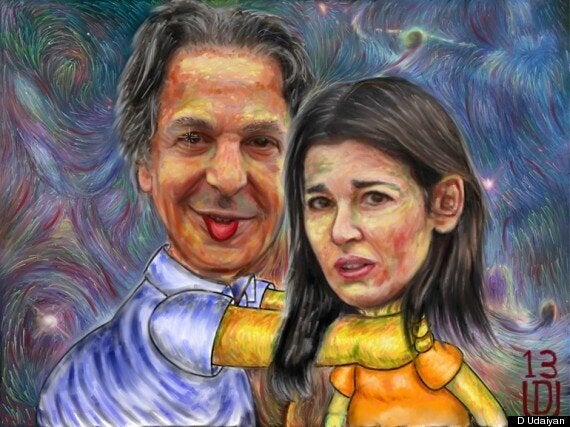 A picture by D Udaiyan on the Saatch website
"When those pictures hit the newspapers that photo said, 'Come and paint me,'" Jones told the Mail on Sunday. "'It's not the best execution, but that's not what's important. It's ironic that this picture is for sale as art and there's Mr Saatchi lining his pockets from it. He's profiting from that image."
The website is a place where any artist can create an account to sell work as long as it is not "defamatory" or "offensive". Saatchi takes a 30% cut of work sold.
In an email to the Mail On Sunday, Saatchi said: "Would it have been a better story if I had censored the artists whose work might be personally disobliging? I think it's a bit of a micro genre."
The art collector has insisted that the photos published last year by The Sunday People showed nothing more than the pair having "a playful tiff".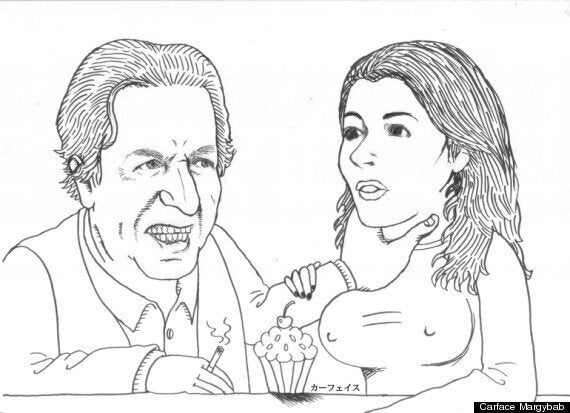 One by Carface Margybab which sold for $251
While Lawson appeared to be grimacing in the pictures, and was later seen leaving Scott's restaurant in Mayfair in tears, Saatchi has claimed they paint a "far more drastic and violent impression" of the incident. But when it became clear he could not mend the relationship, he filed for divorce.
Lawson married Saatchi, who made his name in advertising, in 2003. She has two children, Cosima and Bruno, from her marriage to journalist John Diamond, who died of throat cancer in 2001.
She became a household name in 1998 with her first cookery book, How To Eat.
Popular in the Community