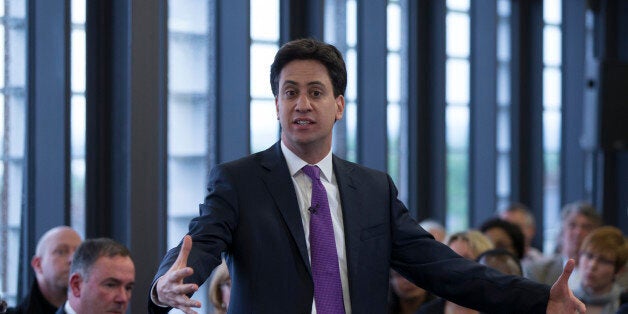 The five things you need to know on Tuesday 1 July 2014...
1) ED VS THE 'BAYING MOB'
"David Cameron is edging Britain towards the EU exit door after embarking on a negotiation strategy based on 'threats, insults and disengagement', Ed Miliband has said. In rowdy commons scenes, which saw one former Tory minister liken the incoming European Commission president Jean-Claude Juncker to a Luftwaffe fighter plane, the Labour leader accused the prime minister of burning alliances, leaving his EU strategy in tatters. Emotions were running so high on the Tory benches as the prime minister reported back on last week's EU summit that the commons speaker, John Bercow, was forced to intervene to ask the 'baying mob' to allow Miliband to be heard."
The Labour leader said: "His combination of threats, insults and disengagement turned out to be a masterclass in how to alienate your allies and lose the argument for Britain, including his threat to leave the EU if Mr Juncker were chosen. We all remember he went rowing in a boat with Chancellor Merkel and other centre right leaders in a Swedish lake in order to win support. But what did she say afterwards. She said threats are not part and parcel of the European spirit."
Miliband's message isn't getting through, though - from the Telegraph:
"The Conservative Party has enjoyed a poll bounce in the wake of David Cameron's failed attempt to prevent Jean-Claude Juncker becoming president of the European Commission. The so-called 'Juncker Effect' has seen the Tories overtake Labour in a poll conducted by Lord Ashcroft, the former Conservative party deputy chairman... The latest weekly poll by Lord Ashcroft puts the Tories on 33 per cent, up five points,and Labour on 31 per cent, down two points."
Labour will be hoping today's big announcement on the devolution of up to £30bn in funding to councils will help boost their poll ratings. In a speech in Leeds, based on proposals made by former cabinet minister and Tony Blair ally Andrew Adonis, the Labour leader will say English regions can be "economic powerhouses" if they are given more control of their budgets.
"Ed Miliband will today vow to hand vital powers to the regions in a new drive to tackle the North-South divide. The Labour leader will say all the cash raised from local business rates should be ploughed back into communities. In a speech in Leeds, he will pledge that "combined authorities" like Greater Manchester will get control of the money - rather than Whitehall getting half as now."
The Times has done an interview with Lord Heseltine, who's always good value:
"According to Lord Heseltine, the so-called 'productivity puzzle' is nothing of the sort. The infamous efficiency gap between the UK and rival economies is simply down to indolence: 'We don't get up early enough, we don't work hard enough, we're not ambitious enough.' Not accusations many would level at the 81-year-old Conservative peer who, along with the cities minister Greg Clark, has just completed an exhausting tour of all of England's 39 'local enterprise partnerships' (LEPs), the growth bodies created by the coalition to replace the costly, bureaucratic regional development agencies."
"Seated in Mr Clark's office with his back to Big Ben, he claims that a local 'revolution' is about to sweep away inefficiency — British workers' output per hour is 21 per cent below the average for the G7 — and set entrepreneurs and local government free to take the big decisions that will unlock growth."
And if he offends a fair few people along the way? Oh well...
Poor Dave. We've all held parties at which there've been some pretty embarrassing no-shows, right? From the Times:
"They wanted Daniel Craig and Benedict Cumberbatch, they got Ronnie Corbett and Bruce Forsyth. The idea had been to soak Downing Street in the full-beam power of the A-list celebrity spotlight, but David Cameron may have been left ruing the attempt last night having mustered only a sprinkling of stars shedding a somewhat lower wattage. The prime minister risked inevitable comparisons with Tony Blair's Cool Britannia parties in 1997 when he invited a glittering collection of stars to an official reception."
"David Cameron threw a star-studded celebrity party on Tuesday in an echo of Tony Blair's 1997 celebrated "Cool Britannia" bash. But while the New Labour party produced a famous image of Blair in deep conversation with Oasis's Noel Gallagher, Cameron's cast list was headlined by the somewhat less risky figures of entertainers Cilla Black and Bruce Forsyth."
BECAUSE YOU'VE READ THIS FAR...
Watch this video of a dog reacting to Portugal being knocked out of the World Cup. It's quality.
4) BOMB ISIS - OR WE'LL ASK IRAN TO DO IT
"Speaking exclusively to The Huffington Post UK, Dr Haider Al-Abadi, a member of the Iraqi parliament and a spokesman for Prime Minister Noori Al-Maliki's Dawah Party, said the Iraqi authorities feel so threatened by Isis 'that we will take any assistance, even from Iran'. It is believed to be the first time such a senior Iraqi politician has publicly raised the spectre of full-scale Iranian military involvement inside Iraq - in the absence of US military action. 'We are waiting for the Americans to give us support,' he said. 'If US air strikes [happen], we don't need Iranian air strikes. If they don't, then we may need Iranian strikes.'"
"As a father," said President Obama, in an official statement after the three Israeli teenagers abducted earlier this month in the West Bank were found dead near Hebron, "I cannot imagine the indescribable pain that the parents of these teenage boys are experiencing."
He is right to show empathy. The murder of three Israeli teenagers is a tragedy - and a crime.
But, I wonder, does President Obama, 'as a father', also feel the pain of the parents of the three Palestinian teenagers killed in recent weeks by the Israeli military? Or the pain of the parents of Yemeni or Pakistani teenagers killed by US drones?
From the Sun/YouGov poll:
That would give Labour a majority of 18.
Polly Toynbee, writing in the Guardian, says: "Isolated and xenophobic: Britain after a Tory victory."
Rachel Sylvester, writing in the Times, says: "Ed doesn't lack policies. He lacks character."
Steve Richards, writing in the Independent, says: "Nothing Cameron could have done would have changed outcome in Europe."
Got something you want to share? Please send any stories/tips/quotes/pix/plugs/gossip to Mehdi Hasan (mehdi.hasan@huffingtonpost.com), Ned Simons (ned.simons@huffingtonpost.com) or Asa Bennett (asa.bennett@huffingtonpost.com). You can also follow us on Twitter: @mehdirhasan, @nedsimons, @asabenn and @huffpostukpol