Andy Coulson has blamed lawyers at the News of The World (NoTW) for not telling him phone hacking was illegal - in his court bid to avoid the harshest jail sentence for the crime.
Former No 10 spin doctor Coulson, 46, faces up to two years in prison after he was found guilty last week of conspiring to intercept voicemails when he was editor at the NoTW following a marathon trial at the Old Bailey.
Coulson's co-defendants Rebekah Brooks and managing editor Stuart Kuttner were cleared of all charges.
Defending Coulson, his lawyer Timothy Langdale QC told the Old Bailey the tabloid's own legal department, whom Coulson consulted frequently, never advised him that it was a crime.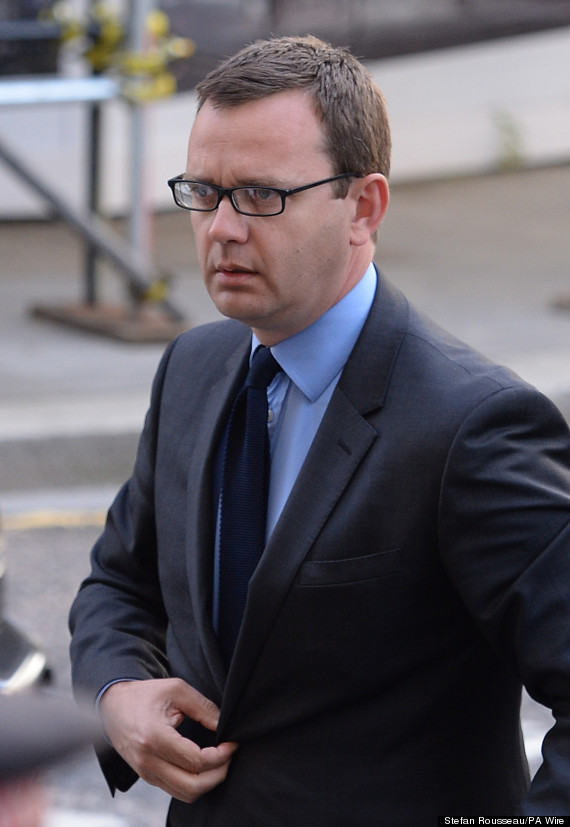 Andy Coulson blamed his lawyers for not telling him phone hacking was illegal
He said it was clear from the trial that Coulson was not alone in being ignorant of the fact that phone hacking was illegal.
But prosecutor Andrew Edis QC disputed the assertion that Coulson was unaware of the illegality of phone hacking, saying the evidence could not be clearer - Coulson knew from the summer of 2004, around the time he heard of the David Blunkett voicemail to Kimberly Quinn.
The lawyer said: "He knew at least from that date that it was a criminal offence."
Mr Langdale replied: "I stand by everything that I said."
A spokesman for Hacked Off said Coulson's excuse was "preposterous, hypocritical and insulting".
He added: "Preposterous because the Murdoch papers employed a team of highly-paid full-time lawyers to advise editors on precisely such matters.
"Hypocritical because Coulson's News of the World would never have accepted such an argument from anyone it accused of illegal activity. And insulting because it flies in the face of the facts: if he thought it was legal when he was authorising it, why was it so elaborately hidden?"
Langdale accepted that hacking was widespread when Coulson was editor between 2003 and 2006 but rejected the prosecution statement that the newspaper

He added: "There are some features of this sorry affair which must be mentioned because they are capable of having, we submit should have, a mitigating effect on any sentence.

"Perhaps the most salient factor of the evidence is that no one at the NoTW or the newspaper industry at large in 2000/06 realised that interception of voicemail messages was illegal, in the sense of criminal."
SEE ALSO:
After he left the NoTW in 2007, Coulson went on to be a "trustworthy and straightforward" director of communications for David Cameron, he said.
The lawyer went on: "Because of his role after he left the NoTW, because of the wider background to the wider investigation, Mr Coulson has become something of a lightning conductor for the political aspect."
He said the "media furore" in the first 24 hours after his conviction demonstrated this vividly but he maintained his client was still a "thoroughly decent" man.
Immediately after Coulson's conviction, Prime Minister David Cameron issued "a full and frank" public apology for hiring him.
Coulson will be sentenced on Friday alongside three of his former colleagues and private detective Glenn Mulcaire, who all admitted their part in the phone hacking plot last year.
The prosecution has also asked for £750,000 costs to be paid following the 139-day trial.
NoTW news editor Greg Miskiw, 64, chief reporter Neville Thurlbeck, 52, and James Weatherup, 58, have all admitted one general count of conspiring together and with others to illegally access voicemails between October 2000 and August 2006.
Mulcaire, 43, was first convicted of phone hacking with former royal reporter Clive Goodman in 2006 and served a prison sentence.
Following the renewed police investigation into the full extent of activities at the NotW, he admitted three more counts of conspiring to hack phones plus a fourth count of hacking the voicemail of murdered schoolgirl Milly Dowler in 2002 - an act which eventually led to the downfall of the NotW in 2011.
The Phone Hacking Verdicts