Nigel Farage has returned to the European Parliament for its new session with a characteristically passionate rant against the EU.
After leading his fellow Ukip MEPs in an act of protest against the EU by turning their backs to an orchestra and the EU flag, Farage welcomed his new, and bigger, cohort of eurosceptic MEPs.
The eurosceptics "are now the progressives', he told MEPs, hitting out at the EU's "naked militarism" as the political bloc's flag was "goose-stepped around the yard" to mark the start of a new parliamentary session.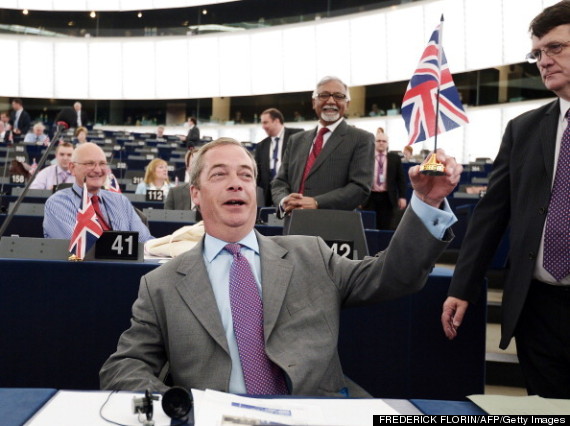 Farage back in the European Parliament
Farage predicted that the European Union would bring "endless misery" for southern Mediterranean countries, and his speech provoked a fierce reaction from Belgian Green MEP Philippe Lamberts.
Describing the Ukip leader's speech as that normally given by a leader of the Opposition in the House of Commons, Lamberts said: "Mr Farage, what are you doing here? If you want to hold that kind of speech, get elected there, what are you doing here?"
Lamberts took issue with the fact that Farage's Eurosceptic parliamentary grouping, the EFD, was supported by other European MEPs.
"If you want to be considered leader of a European group, then make speeches as a European political leader," he said.
Farage sprang up to take issue with Lamberts' attack, which he said sounded "like someone from the Communist era saying if anyone else has a different point of view, then clearly they're mentally ill or there's something wrong with them!"
The Ukip leader said that his colleagues wanted a "modern Europe" and didn't "subscribe to an ever closer union [nor] that flag".
In a reference to his ambitions for parliamentary seat in Britain, Farage rounded off: "Don't worry too much about my presence because in the next five years, I won't be here."