The government's Student Loans Company sent "Wonga-style" debt collection letters to graduates using a fictitious firm to threaten legal action, it has been claimed.
The SLC, which is a subsidiary of the government and is held to account by the department for business, innovation and skills (BIS), made up a firm called 'Smith Lawson and Company Recovery Services' to chase former students for money.
The company has been sending out the letters under the fake name since 2005, the Daily Mail reported, meaning the numbers of graduates receiving the letters could be in the thousands.
The accusations emerged following the payday lender Wonga being fined millions in compensation after it sent customers debt repayment letters using fake debt collecting firms. It may now also face a criminal investigation.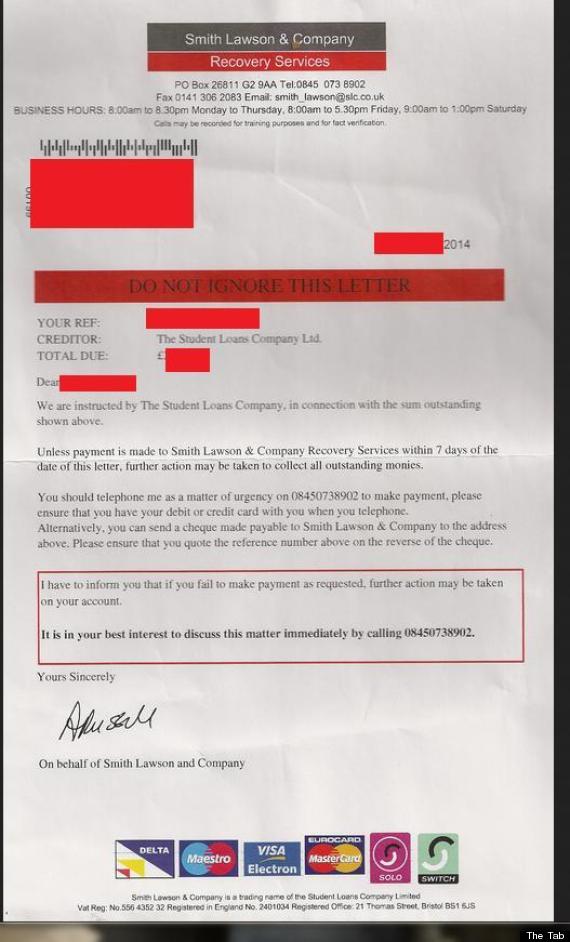 One of the letters sent by the Student Loan Company, sent in to The Tab
Letters sent by the fake company included a banner warning the recipient "Do Not Ignore This Letter" and, according to student paper the Tab, read:
"We are instructed by our client in connection with the sum outstanding above.
"Unless payment is made to Smith Lawson & Company Recovery Services within 7 days of the date of this letter, further action will be taken to collect all outstanding monies.
"If you fail to make the payment as requested, I will have no option but to request that my client proceeds with legal action for the recovery of this balance."
It has since emerged the SLC was subject to an investigation by the Office for Fair Trading (OFT).
A spokesperson for the SLC said: "The Student Loans Company has a duty to collect every pound that is owed, for the taxpayer.
"The Smith Lawson collection process has been used since 2005 to support collection activities and was mainly used after the initial in-house collections process had been exhausted for customers who had persistently defaulted on their loan repayments and were in arrears for a minimum of three months."
The OFT ceased to exist earlier this year, with its responsibilities passing to a number of different organisations including the Financial Conduct Authority. When contacted by Huffington Post UK, the FCA said it was aware of the reports but could not comment.
The BIS has been contacted for comment but has yet to respond.