Lewis Hamilton paid tribute to his home fans' support as he reflected on his second British Grand Prix victory after a difficult first two days at Silverstone.
The Mercedes driver took his fifth win of the season and closed the gap on team-mate Nico Rosberg to just four points after the championship leader was forced to retire.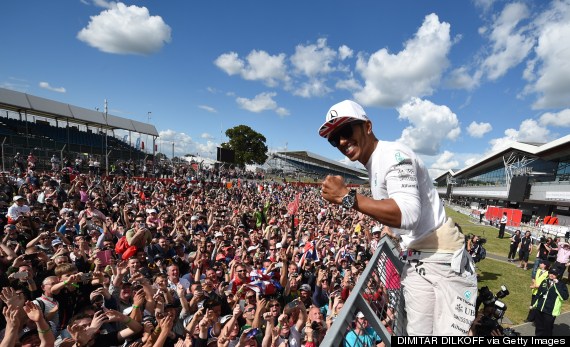 Lewis Hamilton thanked the Silverstone crowds for putting the wind back in his sails
"I came into this weekend saying it would be great to have the fans put the wind back in my sails and change the direction and give me momentum," Hamilton said after the race.
"Obviously the win today put the points back. I have been chasing all year really since I lost points at the first race and I've been chasing again after the previous DNFs. It's been very, very difficult.. it's so hard to get your mind in gear and not lose points but now we're back and close.
"And the pace that I had today made me feel like I can focus on the next part of the season."
After Saturday's qualifying when he pulled out of a flying lap in the last few seconds of the session as the track was improving followed by a tense appearance in front of the media, questions were being asked about Hamilton's psychological state and his motivation, but he didn't think there was any reason to be concerned.
Story continues after slideshow
"I've had four wins already this year, I think my hunger is on par with any other year I've been racing but you could say that yesterday was a real kick in the balls. I have to pull up my socks and get on with it if I want to win this championship. I can't have situations like yesterday.
"In the past two races I've had the pace to get on pole position but I've not put it there and have made it much harder for myself. I need to try to not do that in the future.
"I think this weekend really showed that, for one, you never give up. Yesterday wasn't a case of giving up, I didn't think I could do the lap, I was really shocked that the last sector was so fast.
"But coming here today the support from the fans just spurred me on, and I really couldn't have done it without them.
"Yesterday was a really difficult day. Obviously you never think situations like that would come up the way they did. I went away feeling terrible for the fans. They all turned up and there's so much support here, I felt that I had let them down, not only them but the team and myself.
"Coming back today, trying to turn that serious emptiness and negativity into a positive was really my priority.. I honestly feel that I had the pace today. I was catching Nico in the first stint. I was able to extend my stint longer than ever before, I was feeling pretty comfortable. Of course, you never want a team-mate to fall away, to win like that.
"I was looking forward to a wheel-to-wheel battle but I'm sure we'll get many more in the future."