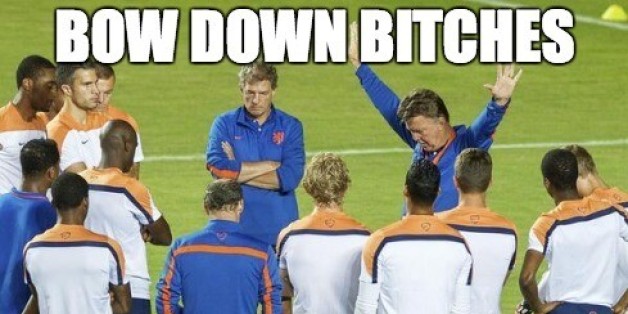 Tim Krul made the two saves that helped the Netherlands win their first ever World Cup penalty shootout against Costa Rica, but it was coach Louis van Gaal's decision to bring him on for Jasper Cillessen that made it possible.
Van Gaal proved he had brass balls - again - by withdrawing, and arguably humiliating, Dutch No.1 Cillessen when Krul emerged in the 121st minute in the Oranje's quarter-final. His Dutch managerial legacy effectively hinged on that substitution and Krul didn't let him down.
Here's how the internet reacted...
How Louis van Gaal & the Dutch feel this morning. #NED #MUFC pic.twitter.com/44JvVGCmh2

— Man Utd FC (@ManUtdFC_Fan) July 6, 2014
Louis Van Gaal and Tim Krul sighting: #ned bros for life. https://t.co/OnnsbaHiLh

— Bleacher Report UK (@br_uk) July 5, 2014
RT @JonLabbatts Can't wait to see Louis van Gaal walking towards the World Cup trophy like http://t.co/3BJEfnKZDY

— Jonathan (@JonLabbatts) July 5, 2014
Louis van Gaal and his coaching staff walking into the dressing room like.. pic.twitter.com/1oumOZZX35

— Not Match of the Day (@NOT_MOTD) July 5, 2014
July 5, 2014
LvG about now pic.twitter.com/JVTmKePRpG

— United Rant (@unitedrant) July 5, 2014
Louis van Gaal waking up like.. http://t.co/xuUoa7F4IV

— Football Vines (@Vine_Football) July 6, 2014
Louis Van Gaal after Tim Krul got all the credit for saving the penalties... https://t.co/XVaCWTZMeU

— Joe (@joes85) July 6, 2014
Van Gaal when Krul asks can he start the next game https://t.co/8PrnRdICoC

— Marco Verratti (@Ayyhalo) July 6, 2014