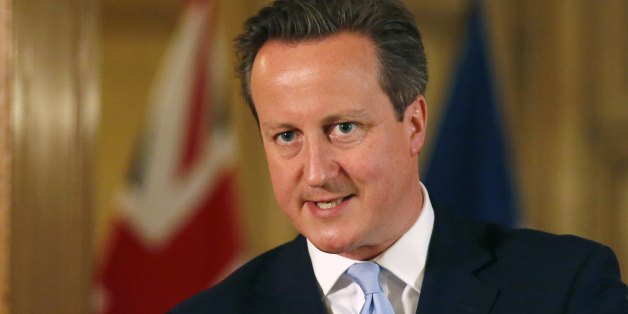 Luke MacGregor/PA Wire
David Cameron has said there will be "no stone unturned" by an independent inquiry into how public institutions handled allegations of child abuse, declaring it was "vital" to find out the truth of what happened and to learn lessons.
Home Secretary Theresa May is expected to announce a broad independent inquiry later today as she makes a statement to MPs about claims of organised child abuse at Westminster in the 1980s.
Conservative peer Lord Brittan has welcomed the probe, but insisted that claims he failed to deal adequately as home secretary with a dossier of information handed to him by campaigning MP Geoffrey Dickens in 1983 were "completely without foundation".
Demands for an inquiry were fuelled over the weekend by Lord Tebbit, a member of Margaret Thatcher's cabinet in the 1980s, who said that there "may well" have been a political cover-up at the time in order to protect "the system".
Speaking during a visit to Halesowen College in the West Midlands, Mr Cameron said: "I am absolutely determined that we are going to get to the bottom of these allegations and we're going to leave no stone unturned to find out the truth about what happened - that is vital.
"It is also vital we learn the lessons right across the board from these things that have gone wrong.
"And it's also important that the police feel that they can go wherever the evidence leads and they can make all the appropriate arrangements to investigate these things properly.
"Those three things need to happen - robust inquiries that get to the truth, police investigations that pursue the guilty and find out what has happened and proper lessons learned so we make sure these things will not happen again. That is what will happen under my Government."
Following a review last year, the Home Office admitted that more than 100 files relating to allegations of child abuse have gone missing over a period of 20 years. They included a dossier, alleging the involvement of public figures in a paedophile ring, handed to then home secretary Leon Brittan by Mr Dickens, who died in 1995.
The missing dossier is believed to be linked to the alleged abuse of children at the Elm Guest House in south-west London.
In a statement today, Lord Brittan said: "I would like to put on record that I welcome the fact that there is now to be an independent review to look at the missing files belonging to the Home Office.
"It has been alleged that when I was Home Secretary I failed to deal adequately with the bundle of papers containing allegations of serious sexual impropriety that I received from the late Geoff Dickens MP. This... is completely without foundation - as evidence from the Home Office's own report supports.
"As I made clear in the statement that I issued on 2 July, I passed this bundle of papers to the relevant Home Office officials for examination, as was the normal and correct practice. I wrote to Mr Dickens on 20 March 1984 informing him of the conclusions of the Director of Public Prosecutions about these matters (as set out in the Interim Report of the Independent Review set up by the Home Office).
"In this same report, Mr Dickens thanked the Home Office for the way in which the information he provided was handled and said in a speech to the House of Commons on 31 March 1987: ' I should like to place on record my thanks to the Home Office and the departments within the Home Office for following up the cases that I keep sending to it. I should also like to thank the Attorney General. They have been very helpful and a strength to me in my campaigns.'"