Reeva Steenkamp's mother says she has forgiven Oscar Pistorius, but her daughter will only rest in peace when the paralympian's trial for her murder is over.
The South African athlete says he accidentally killed his model girlfriend after mistaking her for an intruder and opening fire through an door, but the prosecution say it was pre-mediated.
June Steenkamp told Hello! Magazine she still feels her daughter's presence since her death on Valentine's Day 2013.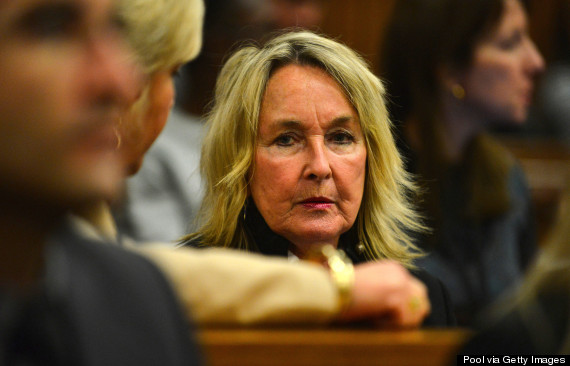 June Steenkamp
She said: "I feel her presence and talk to her all the time. She'll only rest in peace when this is over. I trust that God will prevail and justice will be done. All we want is the truth.
"I don't hate Oscar," she said, "I've forgiven him. I have to - that's my religion. But I am determined to face him and re-claim my daughter. It's important for him to know that I'm there, that Reeva's mother who gave birth to her and loved her, is there for her."
Story continues beneath slideshow
Reeva's death has taken its toll on her father, Barry, who has suffered a stroke and been unable to attend the court hearings.
He said he wished he had intervened to end the couple's relationship, saying: "If I'd known what I know now, I would have attempted to stop the relationship. Reeva wouldn't have liked me for attempting to interfere, but as it turned out she would have thanked me in the end." Pistorius claims he shoot Reeva Steenkamp after mistaking her for an intruder
As his trial resumed last week after a six-week break for a mental health assessment, Pistorius was revealed to now be a suicide risk who will be at increasing risk of taking his own life if he does not receive mental health care, his defence team said.
They told the trial in Pretoria that his depression and post-traumatic stress disorder will worsen if professional help for these conditions stops.
The court has heard that the athlete has developed a hand tremour and a sleep disorder since the shooting.
BLADE RUNNER TRIAL:
A psychiatric report, which his lawyer Barry Roux read from, said Pistorius had no history of "abnormal aggression or explosive violence" and his relationship with Steenkamp was not abusive.
Roux said the report also said Pistorius does not have "narcissistic" tendencies associated with abusive partners.
"Should he not receive proper clinical care, his condition is likely to worsen and increase the risks for suicide," he quoted it as saying.
Last Wednesday, a medical expert from the University of Cape Town, Wayne Derman, said Pistorius was "hyper-vigilant" and often scanning for possible threats.
The professor said: "He is an anxious individual."
Pistorius faces 25 years in jail if convicted of Steenkamp's premeditated murder.