You can see the critically-acclaimed documentary 'Mistaken for Strangers' for free in Hyde Park on Wednesday evening, courtesy of Barclaycard Presents British Summer Time Hyde Park.
'Mistaken for Strangers' is a song by Brooklyn-based indie rock band The National from their fourth studio album, Boxer.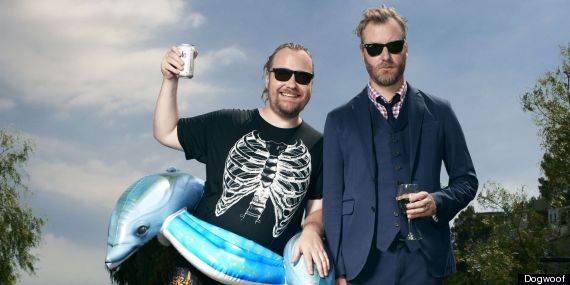 Tom and Matt Berninger - what happens when two very different people go on the road together...
It's also the name of the film following what happened when frontman Matt Berninger invited his younger brother Tom to make a documentary about him and his bandmates as they went on tour.
Although there's a bit of the band's music on display, the film concentrates on what happens when two brothers who love but don't understand each other spend too much time in the same room.
Both Tom and Matt are disappointed by what they find in the other. According to Tom, Matt isn't rock and roll enough for his expectations of a famous star. And, according to Matt, Tom isn't... well, where do you start? For him, it's the milk and cornflakes on the bathroom floor that seem to finally send him over the edge.
'Mistaken for Strangers' sets out to be a rockumentary, and ends up being a moving discussion about the nature of filial duty and connection - when it lets you down, and when it triumphs over all rational thought.
The film, which opened the Tribeca Film Festival in New York, was described by The Washington Post as "a funny, eccentric and finally deeply poignant depiction of art, family, ­self-sabotage and the prickly intricacies of brotherly love".
The National will also be playing a full set supporting Neil Young And Crazy Horse at Barclaycard presents British Summer Time Hyde Park on Saturday 12 July, where Tom Odell, Midlake and Lucy Rose will also be performing.
'Mistaken For Strangers' will be shown on Wednesday 9 July, with 'The Graduate' being shown on Friday 11 July. Click here for more information. . The DVD of 'Mistaken for Strangers' is available from 14 July.