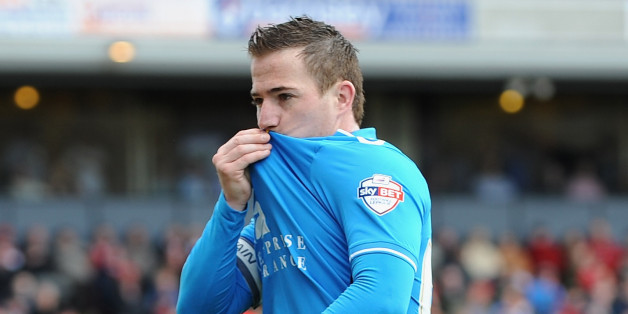 Tony Marshall via Getty Images
Yesteryear, it was Leeds United who unfathomably paid over-the-odds for average players with few international caps to their name. The days of Peter Ridsdale are over, though, and new owner Massimo Cellino has demonstrated how to humiliate buying clubs.
Fulham have bought Ross McCormack for £11 million. Eleven. Million. Pounds. No, we're not forgetting the decimal point. Eleven. Million Pounds.
To illustrate the ludicrousness of that figure, McCormack has spent his professional career in the Scottish Premiership and the Championship. He has won just eight Scotland caps and although he bagged 29 goals last season, the 27-year-old managed just nine the previous campaign.
In fairness to McCormack, he is a proven goalscorer at Championship level, it is just inexplicable why Fulham kowtowed to Leeds' demands months after frittering £10m away on Kostas Mitroglou.
The internet has spoken, Fulham...
I'm guessing this was the reaction in the Leeds boardroom when Fulham offered £11m for Ross McCormack ??? https://t.co/qQSBgpCbWS

— El Franco Maccadona (@TheFrankieMacca) July 8, 2014
I dreamt last night that another Championship club paid Leeds £11m for Ross McCormack. Ha. Strong this Brazilian beer

— Guy Mowbray (@Guymowbray) July 8, 2014
Wonder why British players never get a chance in PL? £11m for Ross McCormack is all you need to know. Fees stop clubs buying from lower divs

— Duncan Wright (@dwright75) July 8, 2014
Leeds United fans after hearing Massimo Cellino managed to get £11M for Ross McCormack #LUFChttps://t.co/oglCLtvCrK

— WeAreLeedsMOT3 (@WALMOT3) July 8, 2014
£11m for Ross McCormack!? Do you need help pulling your pants up @FulhamFC? #lufcpic.twitter.com/9c3pBr5l9A

— Carl Gooding (@Carl_gooding1) July 8, 2014
£11m for Ross McCormack to a no mark Championship club.... #FFCpic.twitter.com/TlJKEXeeuC

— Adam Parkes (@superhoop1882) July 8, 2014
Seriously though, £11m for Ross McCormack is absolute madness. Fulham need Phoebe to close their transfer deals....http://t.co/n3VzDESluv

— Craig (@djcraiglaw) July 8, 2014
£11m for Ross McCormack #leeds#fulhampic.twitter.com/g7ASYpqE9A

— Elliot Wagland (@elliotwagland) July 8, 2014
£11M for Ross McCormack ..........

July 8, 2014
Alejandro Sabella was just told Fulham are paying £11m for Ross McCormack https://t.co/dH2gFrgAkR

— Colossus Bets (@ColossusBets) July 8, 2014
"Hi Mr. Cellino, we'll give you £11m for Ross McCormack?" http://t.co/6EBqL7TLrp

— Football Vines (@Vine_Football) July 8, 2014
£11m for Ross McCormack? Almost as expensive as Steve Marlet. #ffc

— John Brewin (@JohnBrewinESPN) July 8, 2014