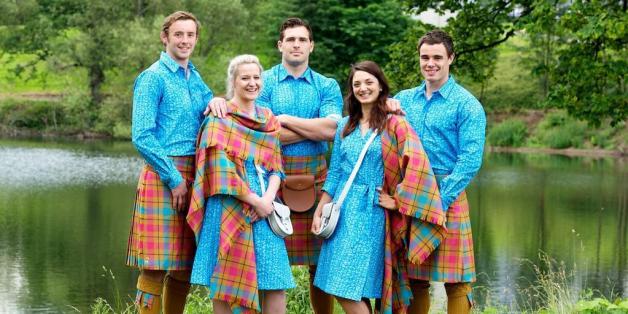 Team_Scotland
Scotland's hopes of independence are about as remote as the country's national side making it to the 2018 World Cup, and to compound the misery just look at their Commonwealth Games opening parade attire.
Resembling Scots on the Braveheart battlefield, competitors will wear light blue with tartan wrap-arounds when they enter Celtic Park on 23 July.
Parade uniform! #GoScotlandpic.twitter.com/UtzNHQJzzA

— Team Scotland (@Team_Scotland) July 6, 2014
Women will also wear a stone-coloured leather bag across their bodies in an attempt to resemble the St Andrew's flag, while men will carry a traditional sporran.
Find out more about the design here. #GoScotland... http://t.co/s8HblBAtkmpic.twitter.com/DIHxUPakYd

— Team Scotland (@Team_Scotland) July 6, 2014
Glasgow native Jilli Blackwood designed the outfits, but the nod to Scottish heritage has gone down as well as Paul Gascoigne's goal at Euro '96.
Altogether now... Ohhhhhh nooooooo.
Wish I had the chance to design the Scotland kit for the Commonwealth Games. 😑

— Louise (@_LouiseJenkins) July 8, 2014
I hope so! "@RhodaMacdonald: Scotland kit for Commonwealth Games is ridiculous. It's a joke, right?"

— Peter May (@authorpetermay) July 7, 2014
If the Scottish referendum 'No' camp claimed an independent Scotland would make wearing their commonwealth games kit law they'd win by miles

— Gaz Haman (@gazhaman) July 7, 2014
Regarding the Scottish Commonwealth outfit it has been worse,1998 they managed to combine tartan AND floral patterns. http://t.co/vZllQ2Xwvw

— Jane Haddow (@whaleandquail) July 7, 2014
The Team Scotland Commonwealth Games Tartan outfits are horrendous! Who allowed this to happen?!? @Glasgow2014

— Siobhann Caulfield (@_Siobhann_) July 7, 2014
You had one job... #TeamScotlandhttp://t.co/RvcRxgsk4K

— TrainandScoff (@trainandscoff) July 6, 2014