A notorious paedophile had a cache of documents that linked his abuse to establishment figures - but this was not acted on, a former police officer involved in his arrest has said.
Former detective Terry Shutt claims important material was discovered in the 1992 arrest of Peter Righton, a former consultant to the National Children's Bureau, but this was covered up.
His claims come amid growing concern and fear over allegations a ring of child abusers, made up of a "powerful elite" that included MPs and ministers, operated in the 1980s.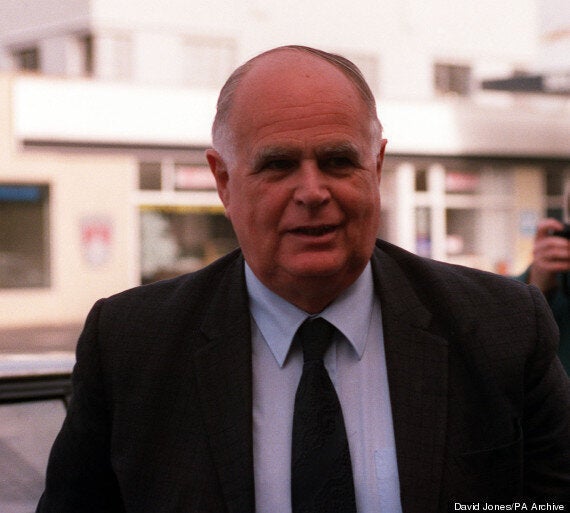 The police officer was involved in the arrest of Peter Righton (pictured), who died in 2007
Righton, who died in 2007, was a founding member of the Paedophile Information Exchange (PIE), before he was convicted of importing child pornography.
Mr Shutt, who served with West Mercia Police, told the BBC five suitcases of letters found in Righton's home pointed to a wider network of child abusers.
"In amongst all the other documentation there was a definite link to establishment figures, including senior members of the clergy," he said.
"So, for me, there was a definite feel that this was something bigger than we were looking at locally and it should be investigated further."
Mr Shutt said some arrests were made but he was "confident that the main link into the establishment" was not followed up.
"At the time there was a culture to protect the establishment, it was seen to be more important to protect the establishment than to deal with individuals who had transgressed," he told the BBC.
Former child protection manager Peter McKelvie has said that the ring were "a powerful elite" that included MPs and ministers at the time.
McKelvie, whose allegations led initially to police investigation in 2012 into the ring, told the BBC: "I would say we are looking at upwards of 20 (people) and a much larger number of people who have known about it and done nothing about it, who were in a position to do something about it."
He said the victims, who were "almost exclusively boys", were abused over "many, many years" and were moved around like "a lump of meat".
NSPCC chief executive Peter Wanless, who is a leading a review into claims the Home Office mishandled historical allegations of child abuse, has said people who cover up such crimes should be prosecuted.
He also said there should be a duty hospitals, children's homes and boarding schools to report abuse.
Mr Wanless is looking at allegations that the Home Office failed to act on allegations of child sex abuse contained in a dossier handed over in the 1980s by MP Geoffrey Dickens.
In March the NSPCC said it was opposed to "blanket mandatory reporting".
The charity previously said it felt "criminal sanction against those who hesitate is unfair", but added that the law should focus on people in positions of responsibility who have failed to act.
Meanwhile, questions have been raised about the choice of a former High Court judge to oversee the government's separate inquiry into allegations there was an an establishment cover-up of the alleged abuse.
Baroness Butler-Sloss is to head an expansive probe into whether abuse by politicians and other powerful figures in institutions during the 1970s, 1980s and 1990s was swept under the carpet.
But Home Affairs Select Committee chairman Keith Vaz said out that while Lady Butler-Sloss is "distinguished" she is also a member of the House of Lords.
David Cameron is likely to face a renewed grilling on the issue in the Commons today, with claims of decades of organised child abuse dominating the headlines.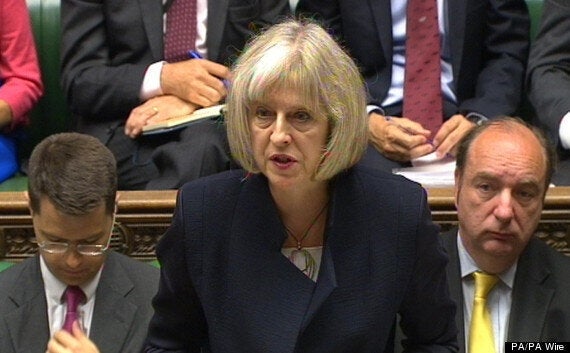 Theresa May announced an inquiry into the handling of the allegations
Home Secretary Theresa May announced two separate inquiries earlier this week - one broad Hillsborough-style investigation led by Lady Butler-Sloss, and another into the historic issues at her own department.
Downing Street said Mrs May and Lady Butler-Sloss - who sits as a cross bencher in the Upper House - would be announcing the wider probe's terms of reference and panel members "within days rather than weeks".
The prime minister's spokesman pointed out that the peer had been president of the High Court Family Division as well as chairing the inquiry into the 1987 Cleveland child sex abuse scandal.
"It is the very wide respect that her professional expertise as well as her personal integrity commands that makes her a very strong appointment for this role. It is the width and breadth of her experience that counts."
But Mr Vaz said he was "surprised that the Government has chosen a Member of the House of Lords no matter how distinguished to head the inquiry".
He said: "She is a member of Parliament and is very closely related to a former Lord Chancellor."