The first trailer has debuted for Angelina Jolie's film 'Unbroken', which tells the story of Olympic athlete and prisoner of war, Louis Zamperini.
The trailer comes only a week after the death of Zamperini at 97, with tributes for him being led by director Angelina, who said, "It was a privilege to have him in our lives," after dedicating much of the past year to bringing his story to the screen.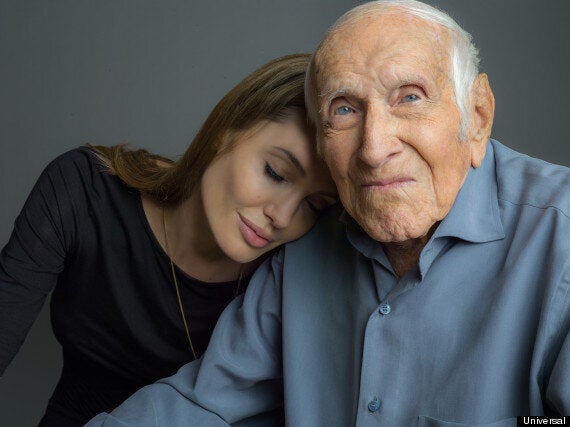 Angelina Jolie had become close friends with Louis Zamperini while preparing to make his film
Jolie and Zamperini, neighbours in the Hollywood Hills, had become close friends over the development of the film, as the filmmaker listened to the war hero recount the incredible incidents of his life over many months of preparation.
Zamperini was a runner who competed in the Berlin Olympic Games in 1936, in front of Adolf Hitler, before signing up for service in World War II.
His place crashed into the ocean, and he was one of only three survivors. When he reached land, he was taken prisoner by Japanese forces, where he was subjected to horrifying personal torture and abuse at the hands of one man, Mutsuhiro Watanabe.
When he was later freed, Louis Zamperini suffered post-traumatic disorder, but found solace in his strong Christian faith. He later attempted but failed to reconcile with his former tyrant.
This is Angelina's second directorial outing, following 'In The Land of Milk and Honey'. The script for 'Unbroken' was adapted by Joel and Ethan Coen, and Zamperini is played by Jack O'Connell.
'Unbroken' will be in UK cinemas from 26 December.