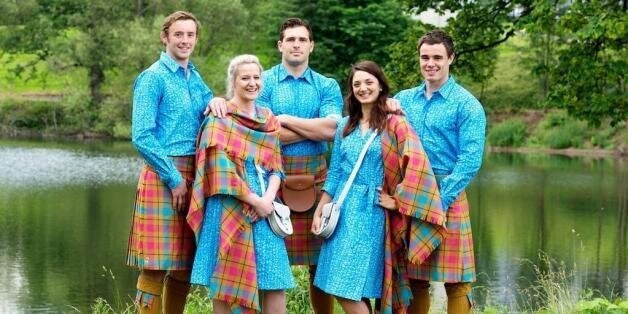 Thousands of people have signed an online petition to drop the outfits Scottish athletes are to wear at the Glasgow 2014 opening ceremony.
The clothing has split opinion, with athletes and organisers said to have given a ''favourable reaction'' to the design, while many people continue to ridicule the outfits.
Team Scotland describes the male uniform as a ''turquoise, fuchsia, navy blue and caramel'' tartan kilt with a blue shirt, while the women will wear a ''flowing wrap-around dress'', said to be inspired by the Saltire flag.
A shawl-like wrap and a stone-coloured leather bag complete the women's uniform.
Textile designer and artist Jilli Blackwood created the outfits, and she insisted that she ''didn't expect everyone to like them''.
But one man is so unhappy with the outfits he has started a petition on change.org titled "Prevent the use of the Jilli Blackwood Scotland uniforms".
Richard Brown's campaign has been backed by more than 4,300 people so far.
Writing on the petition page, Mr Brown said: "The uniforms being used for the Commonwealth Games are truly horrendous. Please step in and prevent them being used while there's still time for an emergency Plan B - before our poor, brave-faced athletes are subjected to parading around in them.
"These uniforms are an embarrassment to our athletes and to Scotland. Please also investigate who selected this travesty of a design."
Speaking earlier this week, designer Blackwood said she would have ''got it wrong'' if everyone had liked the outfits.
''Everyone's allowed their own opinion and I didn't expect everyone to like them," she said.
''This has been a long process and has been talked about. The athletes have been included all the way along. The brief said they wanted a 'high-impact statement'.
''If you think of anyone in art and design it is always controversial, take Damien Hirst for example. If everyone had said 'how lovely', I think I'd have got that wrong.''
People signing the online petition include Scots living at home and abroad. Leigh Fox, from Cyprus, wrote on the page: "I've never known a Scotsman to look bad in a kilt - until now."
Lorna Gillies said: "I'm a Scot living in Australia and this monstrosity of an outfit is an embarrassment to our nation.
"My Australian friends have had a good laugh at it, asking if it's actually a joke. They won't be the only other nation laughing."
It is not the first time a Glasgow 2014 decision has faced an online backlash. Plans to demolish city tower blocks as part of the opening ceremony were scrapped by organisers after more than 17,000 people signed a petition.
Popular in the Community