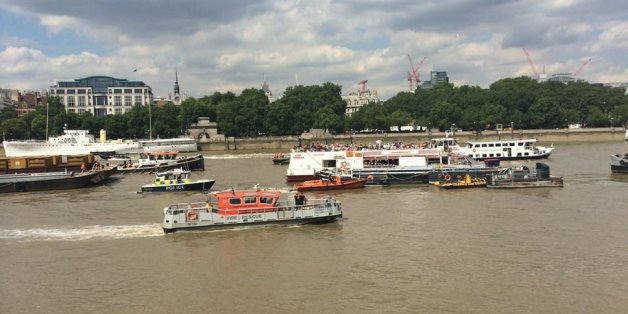 Oliver Payne/ Twitter
Dramatic pictures have emerged after a ferry and a cargo boat collided on the Thames near the landmark OXO tower.
Hundreds of passengers were on board the City Cruises boat when it collided with a barge being towed by a tug.
Passengers from the stricken vessels were rescued by emergency crews including the police marine team, coastguard, fire brigade and ambulance service this afternoon.
Many took to Twitter to post images of the chaotic incident:
How can you manage to crash into a barge?! #thames#citycruises#boatcrashpic.twitter.com/vzfXuesMZs

— Ollie Stapleton (@L90STA) July 17, 2014
City Liner boat crash on the Thames by southbank just now. pic.twitter.com/eKgQW8kfvV

— Corin (@mynameisCorin) July 17, 2014
Boat crash on the Thames. It's Titanic all over again. pic.twitter.com/irOvsSjnXb

— Polly Wedderburn (@pollywed) July 17, 2014
#thames#riverboat#crashpic.twitter.com/58sWJEaBif

— Bård Fjukstad (@metb) July 17, 2014
Scotland Yard said: "At this stage there are believed to be a small number of people with minor injuries including cuts and whiplash.
"Nobody from either vessel entered the water following the collision, and neither boat is believed to be at risk of sinking."
The force said that it was too early to speculate on the cause of the smash, that happened at around 2.15pm.