Flooding and the threat of bad storms hit Britain on Saturday, disrupting travel - particularly at Heathrow Airport.
After sweltering temperatures that touched on 32C (89.6F) on Friday - the hottest of the year so far - the Environment Agency warned that up to 1.2in (30mm) of rain could fall in an hour in some areas and forecasters warned of the potential for stormy weather and flooding on Sunday.
Today's Weather In Pictures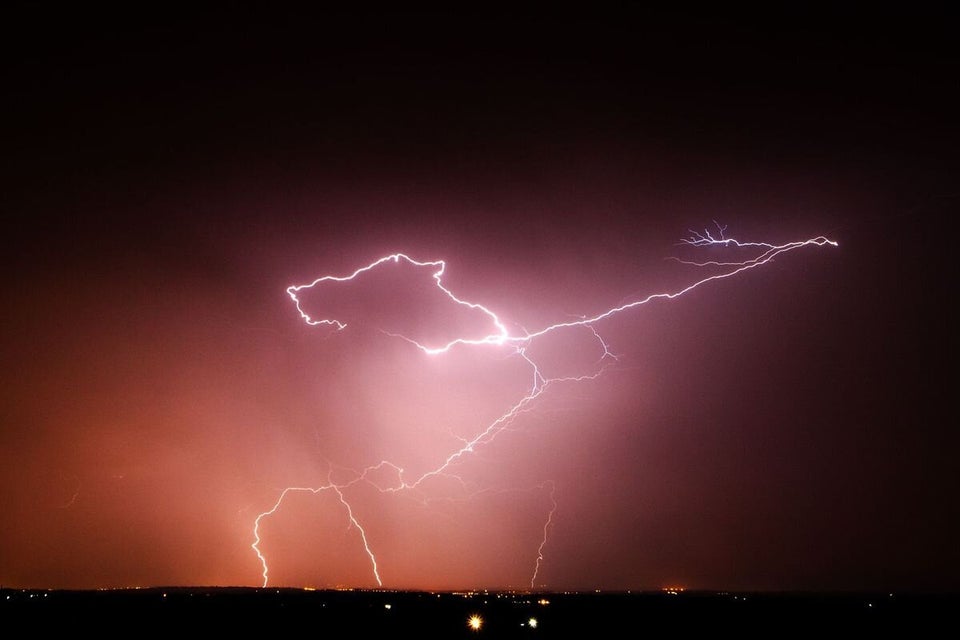 Summer Weather - July 19, 2014
London's Heathrow Airport said airlines were cancelling 20% of flights for a two-hour period on Saturday due to thunderstorms.
A spokeswoman said: "There is severe weather forecast at Heathrow with a 70% risk of thunderstorms, lightning strikes and hail storms. During thunderstorms the number of aircraft that can take off and land each hour is reduced.
Train services from Bath Spa in the Westbury direction have already been blocked due to flooding.
A number of roads in Gloucestershire have also become flooded due to heavy downpours, police said.
Finlay Road in Gloucester is currently closed in both directions due to a burst water main and it is not known when it will be reopened.
Roads including the A48 at Newnham, St Oswolds Road in Gloucester and routes in Cheltenham and Stroud are also affected.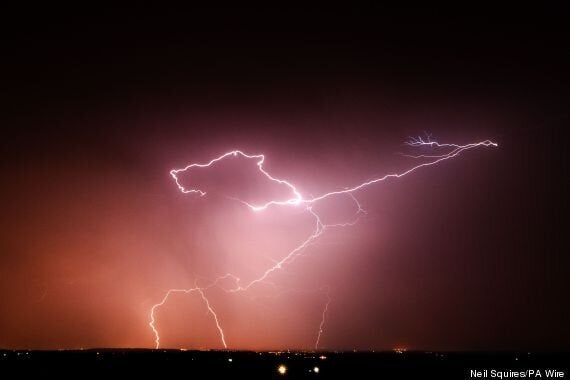 Lightning strikes over the Vale of Belvoir, Leicestershire last night as the country ahead of storms that will could cause flash flooding
A number of manhole covers have lifted due to excess water in various places around Gloucestershire, with a fallen tree in Hawbridge.
In a "amber" warning of rain for England, eastern and central Wales, the Met Office has warned that heavy, thundery showers which developed overnight will move northwards during the day.
The stormy weather has caused travel disruption at Britain's biggest airport, while a number of homes were damaged after being struck by lightning.
Story continues beneath slideshow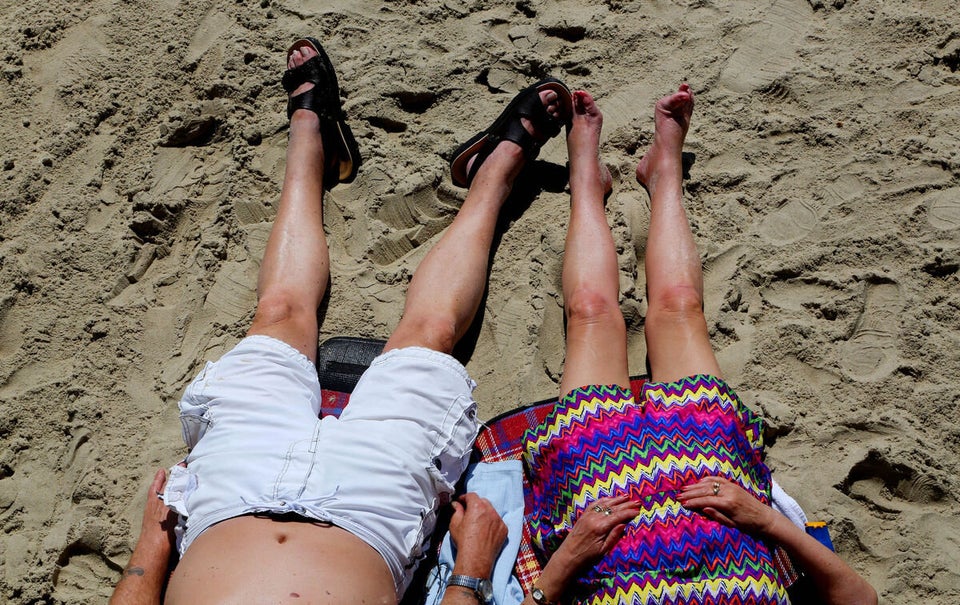 Britain Simmers July 2014
"We have therefore requested that airlines reduce their flight schedule by 20% between 4pm and 6pm. Passengers due to travel on July 19 are urged to check the status of their flight with their airline before travelling to the airport."
Manchester Airport said an electrical surge caused by thunderstorms had led to some delays today.
A family of four were made homeless after their semi-detached Essex bungalow was struck by lightning.
Firefighters tackled the blaze on the roof of the property in Holland on Sea shortly before 4.30am on Saturday. No-one was hurt.
Meanwhile, the roof of another property in Essex collapsed after it was struck by lightning.
Three fire crews were called to the house in Chelmsford, at about 10.45pm last night after smoke was seen pouring from the roof.
Houses were struck in the market village of Lenham, near Maidstone, while lightning also started several small fires in Willesborough, near Ashford.
Patients on a hospital ward had to be moved when heavy rain brought down part of a ceiling.
Twenty-seven patients on the cardiology ward at the Royal United Hospital in Bath, Somerset, were transferred after the incident at around 2am.
Three ceiling panels came down in the hospital's catheter lab and cardiology ward after the roof sprang a leak.
The patients, who were all unharmed, were taken to other parts of the hospital.
Forecasters have warned that large amounts of energy in the atmosphere will lead to torrential downpours, frequent lightning, large hail and strong gusts of wind.
The Met Office said: "Not everywhere within the warning area will see thunderstorms, and indeed some spells of warm sunshine are expected at times, but where thunderstorms do form, some torrential downpours are likely with frequent lightning, large hail and locally strong gusts.
"Significant flooding is possible where these do occur from surface water as well as from small, fast-responding watercourses. The public should be prepared for the risk of disruption from any of these elements."
There is still, however, a "yellow" warning of a heatwave for the UK, advising people to be "alert and ready". The Met Office said there was a 60% chance of a heatwave continuing until Sunday, with high levels of humidity.
John Curtin, director of incident management at the Environment Agency, said: "Intense heavy rainfall this weekend brings a surface water flood risk for England throughout the weekend.
Flooding can happen very quickly and the public are urged to keep checking local weather forecasts and the Environment Agency website for information on a regular basis.
"We will continue to monitor the situation closely and support local authorities, who will respond to any reports of surface water flooding. We will also continue to monitor river levels closely and issue warnings where flooding is likely."
Storms hit large parts of the South East of England early Friday morning, with a reported 3,000 lightning strikes.