After torrential downpours and widespread thunderstorms, sun worshippers could be in for a treat - another heatwave is just around the corner.
Temperatures are likely to soar again next week, with the mercury possibly topping 30C (86F) for a three-day spell from Wednesday.
But the thundery weather continued to bring the risk of floods to parts of the country today, as the Met Office issued a "yellow" warning of rain for eastern England and Scotland.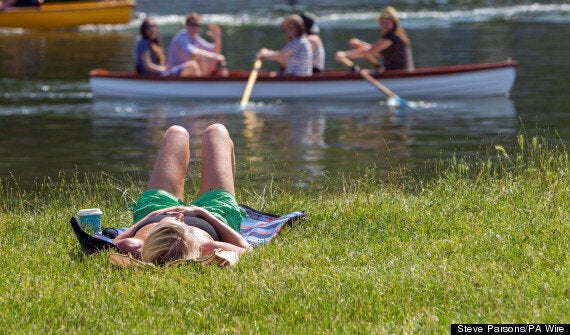 More of this next week...
Forecasters predicted heavy rain, lightning, hail and strong gusts across the east of Britain, while the Environment Agency (EA) issued 29 flood alerts, meaning flooding is possible, in the Midlands, North East and south of England.
John Curtin, the EA's director of incident management and resilience, said: "As we've seen over the past two days, flooding can happen very quickly so we urge people to continue to check local weather forecasts and the Environment Agency website for flood risk information on a regular basis.
"We saw rainfall totals of 60mm in some places yesterday, including in Bradford-upon-Avon and at Westonbirt, near Chippenham, and with further heavy rainfall forecast today we want people to remain vigilant. We also recorded 32.6mm in an hour at the Draycott rain gauge near Derby yesterday afternoon.
"We will continue monitoring the situation closely and supporting local authorities, who will respond to any reports of surface water flooding."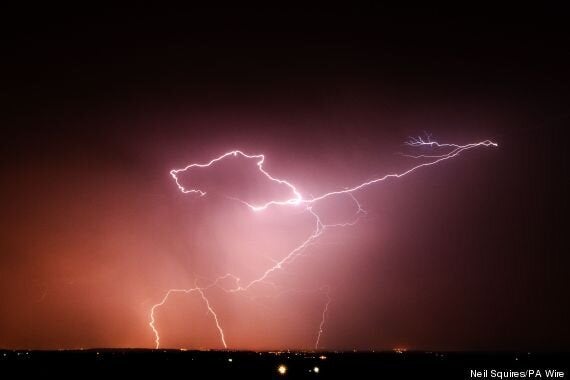 Lightning strikes over the Vale of Belvoir, Leicestershire on Friday night
Gemma Prebble, a forecaster with MeteoGroup, said the worst of the bad weather was over, with temperatures today reaching a maximum of 26C (78.8F) in the South East and 20C to 24C (68F to 75.2F) across the rest of the UK.
She added: "By Tuesday there will be highs of 28C (82.4F) in the South East and on Wednesday, Thursday and Friday it will possibly be up to 30C (86F) in the South East."
The heat is again likely to bring with it the risk of heavy showers and thunder storms, especially in the South, on Wednesday and Thursday, but the warm spell is likely to stretch on into the following week, Ms Prebble said.
Up to 30mm an hour fell in some places and Westonbirt in Gloucestershire experienced 79mm overnight on Friday and through Saturday - more than the average monthly rainfall for the whole of July.
A family of four were forced out of their home after their semi-detached bungalow in Holland on Sea in Essex was struck by lightning, the roof of another property in Chelmsford collapsed after it was hit, and fire crews across Essex and Kent dealt with a number of other fires started by lightning.
Twenty seven patients on a ward at the Royal United Hospital in Bath also had to be moved when heavy rain brought down part of a ceiling.