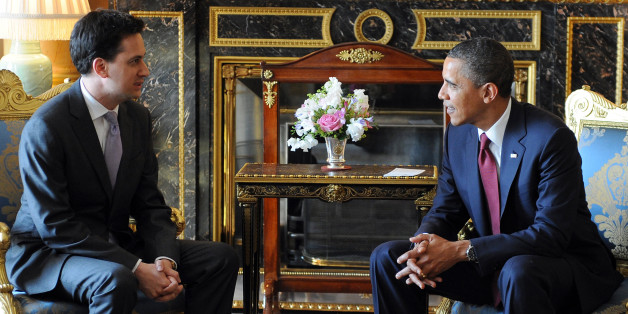 JEWEL SAMAD via Getty Images
Ed Miliband is expected to meet Barack Obama today, as his inner-circle said there was "renewed" cooperation between the Labour Party and the Democrats.
The Labour leader is hoping to have have an informal "brush by" with the Obama in the White House. The talks with Obama would take a similar form to David Cameron's 2007 visit to the White House, when then president George Bush had a "drop in" meeting with the then leader of the Opposition.
But as Gordon Brown's former chief spinner Damian McBride recalls in his Times column today, meetings between British leaders and American presidents do not always go to plan. "Notoriously, Gordon Brown was snubbed five times in his requests for a private meeting with the president in New York, eventually settling for the indignity of a passing chat in the United Nations kitchen," he writes.
Miliband will be hoping his meeting in Washington is not disrupted as the president responds to the crises in Gaza and Ukraine.
The meeting, however brief, is designed to burnish Miliband's credentials as a statesman as the general election draws near. The two leaders share much in the way of political philosophy, however foreign policy could be a sticking point.It was the Labour leader's decision to derail Cameron's push for intervention in Syria that arguably also prevented Obama from taking the action he wanted as well.
SEE ALSO: Will Miliband's White House Meeting Succeed Like Blair's Or Fail Like Kinnock's?
Stewart Wood, one of Miliband's closest advisers who is accompanying him on the trip, has used the planned meeting to emphasise the links between the Labour leader and Obama in a joint blog for The Huffington Post with Neera Tanden, president of the Center for American Progress think-tank. Tanden served in senior roles for both the Obama and Hillary Clinton presidential campaigns.
"In the wake of the global financial crisis, and the anemic economic recovery that has followed, it has yet again fallen to progressives on both sides of the Atlantic to provide fresh solutions to a new set of economic and social challenges. To date, however, there have been important differences in policy," the pair write.
"Ed Miliband's visit to Washington DC provides a timely reminder of the the new post-Crash challenges faced by both our nations and our progressive movements. But beyond that, it is an opportunity for two leaders who both understand that economic growth comes from not the top down, but the middle out, and who share with common values, to share ideas on how to meet these challenges, and to think strategically about how they can work together in the future to build a fairer and stronger future for their countries."
Wood and Tanden add: "This vision, one of an economy growing from the middle-out, has provided the foundation for a renewed dialogue between Labour and the Democrats."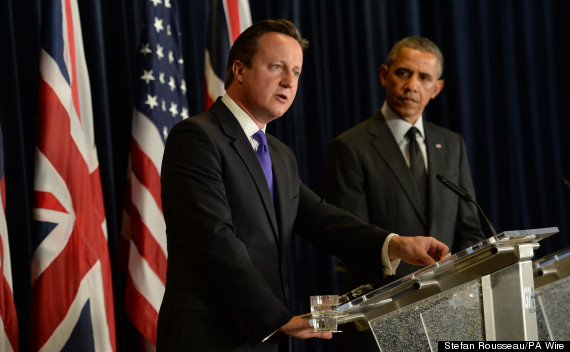 As PM Cameron always gets to meet the president. Miliband is after some of that.
Not everyone, however, is impressed with Miliband's transatlantic trip. Conservatives have criticised the Labour leader for flying to the United States rather than staying in London to respond to David Cameron's Commons statement on the shooting down of Malaysia Flight MH17 over Ukraine.
And McBride suggests the meeting is a "waste of everyone's time" and that, more than that, is actually damaging. "Every time a British party leader or prime minister goes through this charade, it just reinforces America's superiority complex and shrinks our junior-partner status ever further," he says.
Transatlantic visits by opposition leaders have also gone wrong when attempted in the other direction. Republican presidential candidate Mitt Romney's 2012 visit to London was dubbed a "Romneyshambles" after he appeared to question Britain's ability to host the Olympic Games.
WOOD AND TANDEN:Miliband's Visit to Washington Provides a Timely Reminder of the Post-Crash Challenges Faced on Both Sides of the Atlantic