A major ferry operator is being forced to review its pets policy after a passenger's pug died in sweltering temperatures as it was not allowed out of the car during the journey.
Dean and Kirsty Wallace and their three children returned to their car after the one and a half hour Dover to Calais crossing on Friday to find Merlin had collapsed.
Kirsty told the Huffington Post: "My husband gave him mouth to mouth and drenched him in water. Staff radioed for help and got oxygen for him."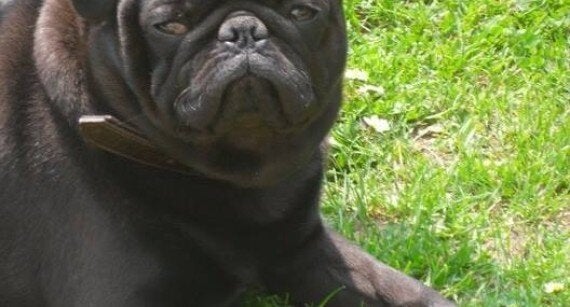 Merlin the pug was only four years old
Despite their efforts Merlin could not be saved. Their other dog, a beagle, was unaffected.
The couple's children aged 10,11 and 12 witnessed the whole scene.
Kirsty said: "They're devastated, they had to watch their dog die."
The family, who live in Germany while Dean serves in the armed forces, make the same trip around three times a year and have had no problems in the past.
The only thing different this time round was they were parked on the top deck of the ferry.
Kirsty said: "It wasn't in sunlight. When we got out of the car we said it was warm but we didn't know if it was because of the engines.
"We opened the windows and left water, but not far enough so they could escape."
On their longer Hull - Rotterdam/Zeebrugge route they provide air-conditioned kennels.
Kirsty said: "We aren't pointing fingers to them, but we have to pay for them and they're not checked and we're not allowed to check.
"They don't offer kennels but they do on longer trips that are ventilated."
Kirsty is keen to point out that staff aboard the ferry did all they could to help Merlin when they realised he was not well.
She said: "They were actually brilliant. We asked them to stop working on him because we could see he had died."
It states: "It would be an animal rights abuse for a person to leave their pet in their car on land for over an hour, so how can the ferry companies be allowed to make pet owners do this?
"The companies charge pet owners a premium for taking their pets already.
"We are calling on DEFRA and Liz Truss to ensure that animal welfare is taken into account by these companies, so that more pets are not put through needless suffering."
P&O Ferries are aware of the incident and released the following statement.
They stressed to the Huffington Post that they carry "50,000 pets a year without incident on our five Dover – Calais ships" and that on the day in question, there were 256 pets onboard.
A spokesman added: "The vehicle deck is fully shaded, well ventilated, and open to a through flow of air that is much cooler than ashore as the Channel is only about 64 Fahrenheit at the moment."
DFDS Seaways who also operate a Dover-Calais crossing also insist pets stay in cars but say owners can be escorted to check on animals or request cars a re parked near ventilation fans.
A spokesperson for the RSPCA said: "This is a deeply distressing incident and our thoughts are with Merlin's family.
"The RSPCA wrote to a number of ferry companies including P & O over two years ago expressing concern about this problem and urging them to change this policy. We are really concerned to hear that another dog has died and that the policy is still in place.
"Pet owners should be aware that these are the rules at the moment and to only travel if it's cool which means overnight, early morning or late at night - or even delaying their journey altogether.
"Ideally we would like it that owners should be allowed to keep dogs with them, albeit maybe in certain areas designated by the ferry company such as one particular area of the lounge.
"Or alternatively that they be taken from the cars and put in kennels in a specific well-ventilated room where owners can visit them, make sure they have water to drink and take them out to an exercise and toilet area if it is a long journey."