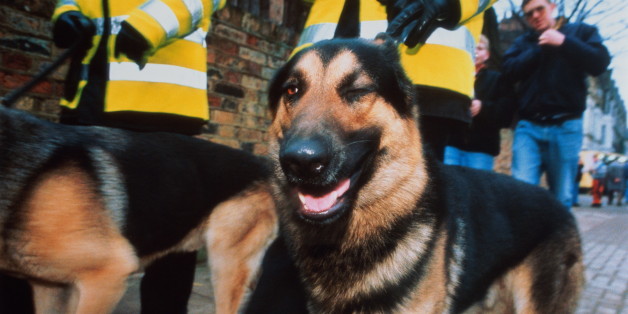 David Pearson via Getty Images
A 73-year-old woman who was bitten by a police dog as it searched for a suspect in her garden has died in hospital, police said. Frail Irene Collins was attacked by the German shepherd on Wednesday inside her home in Penrith Road, Middlesbrough. Cleveland Police, which has already referred the matter to the police watchdog, expressed their "sincerest condolences".
In a statement, the force said: "Cleveland Police are deeply saddened to receive the news that 73-year-old Irene Collins of North Ormesby who was injured following contact inside her home with a Cleveland Police operational police dog last Wednesday, has passed away in James Cook University Hospital, Middlesbrough over the weekend." The dog was withdrawn from operational duties after it bit the pensioner.
It was understood she was in poor health when she was attacked. Witnesses said the dog handler was extremely upset in the aftermath of the attack. Assistant chief constable Sean White of Cleveland Police said: "Our thoughts are with family members, relatives and friends who will be distraught at this sad news.
"Members of Cleveland Police share the grief that is felt and we all wish to express our sincerest condolences to the family. The Independent Police Complaints Commission (IPCC) has been updated and will make a decision on how the incident should be investigated. We are providing the highest level of co-operation to the IPCC and seeking to support the family where it is possible to do so.
"The police dog involved has been withdrawn from operational policing activities and support is being provided to the police officer who was handling the dog at the time of the event. We are committed to learning any lessons that may arise from the investigation and the daily use of police dogs remains operationally important in reducing crime and disorder and protecting the public. Our dogs are trained and licensed for use in accordance with national police guidance."
The dead woman's family issued a brief statement, asking for privacy. They said: "We would like to thank people for their kind messages. We are devastated. We ask the media to please respect our right to privacy and allow us to grieve in private. We do not wish to say anything further at this stage."
Ms Collins suffered a number of bites when the dog was searching her property at around 9.30pm on Wednesday. Cleveland Police said at the time that she had consented to the search operation. Officers were searching the area after a driver who had been stopped on suspicion of a "crime and drugs" offence got away on foot.
Neighbour Jack Williams, 20, last week told the Middlesbrough-based Gazette newspaper he saw officers searching gardens in the street. "We saw the police dog in her front garden," he said. "We told police that she was very ill and told them to go careful." She was given first aid at the scene before being taken to the James Cook University Hospital, where she died at the weekend.