We hear them loud and clear, we see them sharing the stage with the world's most glamorous idolised musical figures, but we take no more notice of them than we do the shadows at the mixing desk, the guards on the stadium gates.
They are the backing singers, whose job it is to make someone else look and sound good, who must be talented, pitch-perfect and expressive in their own right, but not too individual or distinctive to cause 'a problem'.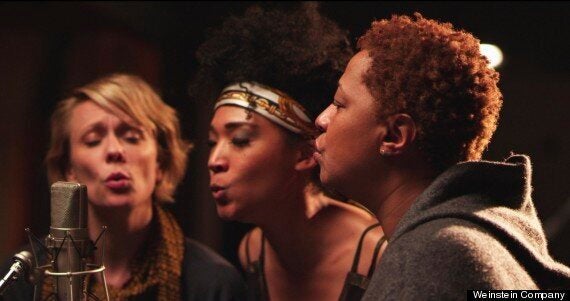 For the women who came before her, there was plenty of fun along the way. Claudia Lennear was one of the lucky girls helping the Rolling Stones create their sound on the road, and both her grin, and Mick's, attests to just how seductive that journey could be.
But there was heartbreak too. Darlene Love's story of how uber-controlling Phil Spector effectively scuppered her career by buying her contract from other record companies and keeping her on the backing tracks is frustrating to hear. There was no such villain for Merry Clayton. She simply ran out of steam.
Contributors to this fascinating, moving film include Bruce Springsteen who makes his valid point about the different qualities you need to be a backing singer, and one who seeks the central spotlight. Sting pops up to talk about the difference between music-making and money-making, which is probably easy to do when you're so rich you don't notice when your accountant swindles you out of millions.
But the real stories belong to the ladies themselves, and their rich history, invariably of church backgrounds, where harmony is all. The most revelatory section of all is the discussion of how such choral history, the act of blending sound, can be as transformative for the artist as for the audience, and stepping up – with the ego required of a solo star – can go against the grain. This is the real heart of the film and, for me, why it deserves its Oscar for Best Documentary.
Sometimes, though, it's worth standing out from the crowd, as when Merry Clayton tells her goosebump-inducing story of one night in 1969, when she was summoned to the studio after midnight, dressing gown and rollers to boot, to provide a backing track for a band who happened to be recording there.
The band was the Rolling Stones, the song was 'Gimme Shelter', and the result was proof that, for some artists, the name may not immediately come to mind, but their voice will ensure their legacy after the spotlight on many a solo star has long since faded.
'20 Feet From Stardom' is available now on DVD. Watch the trailer above, Mick Jagger and the boys (and girls) in action below...