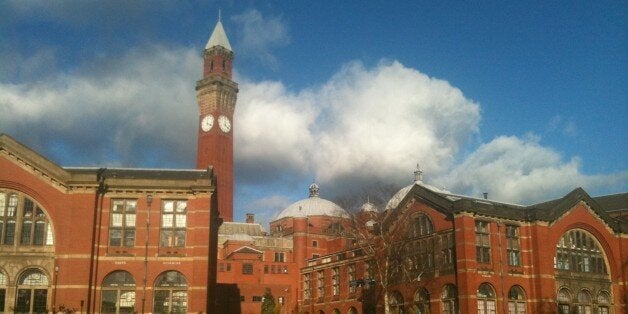 Are student protests a thing of the past? The University of Birmingham seems to think so.
On Wednesday the university announced the suspension of two students after their involvement in a peaceful protest last year, when in the past this has only warranted a reprimand.
The students, Simon Furse and Kelly Rogers, occupied rooms at the university in November 2013 as part of the Defend Education Birmingham campaign. The campaign consisted of 10 demands, including a call for staff to be paid a living wage, for better student representation, and for the university to stop lobbying for fees to be increased.
Since the protest, two of the demands have been achieved: the university have agreed to pay living wage for the next two years and have stopped lobbying for fees.
A three day hearing is said to have taken place in June, during which the university management recommended to the panel Furse be permanently expelled. This would have been the first protest-related expulsion from a British university since 1974.
As it stands, Furse and Rogers, both 22, have been suspended from their courses for nine months, and will not be allowed to return to their studies until March 2015. A third student, Hattie Craig, 21, was formally reprimanded and faces immediate suspension should she breach any university regulation.
In a statement published by Defend Education Birmingham, Furse said: "The protest was peaceful and lawful, but the university can just set up its own Kangaroo Court and do what it wants. University management have clearly decided that they don't want any more protests against their policies, and have decided to victimise us to try and deter others from voicing dissent."
Rogers added: "We protested peacefully to call for a better education for ourselves and future students, and for better working conditions for staff at the University. As a result, we have been punished for expressing our right to freedom of protest and freedom of speech. These rulings are vastly disproportionate and came as a massive shock."
A spokesperson for The University of Birmingham said: "Universities are places of free speech and we respect the rights of students and staff to protest peacefully and within the law [...] Participation in a protest is not a disciplinary offence and the University does not invoke disciplinary procedures lightly."
However, the spokesperson added a "significant disruption was caused to students and staff: nearly 900 students had their teaching and learning disrupted or displaced [...]".
"The University has a duty of care to its staff and student community and will not tolerate behaviour that causes harm to individuals, damage to property or significant disruption to our university community."
The students and their supporters believe they were treated unfairly. The Defend Education Birmingham campaign says the hearing lacked basic principles of procedural fairness. Examples given included claims that the students were denied the right to legal representation, that the students were denied access to minutes of the disciplinary, and that the students were not given proper access to all of the allegations against them.
It is said that the students involved are "actively considering all avenues of appeal", including a challenge in the High Court.