Grieving relatives of the MH17 crash victims have apparently had chilling confirmation that their loved ones' possessions have been stolen from the crash site.
Family members who called their deceased loved ones phones, said they were answered by people with "eastern European-sounding voices", the Netherlands' De Telegraaf reported.
Telephone companies have refused to confirm if calls have been answered 'out of privacy considerations'. However, they have agreed to cancel the subscriptions of victims without the customary death certificate, the paper said in a translation provided by Dutchnews.nl.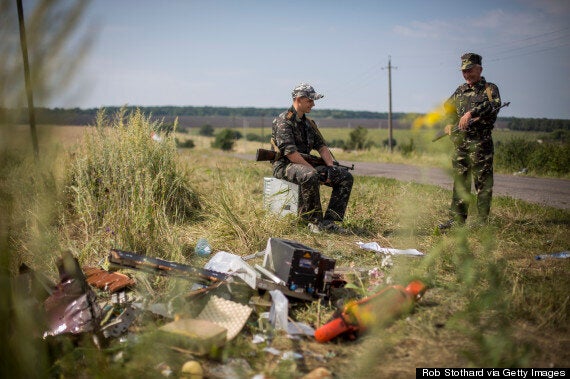 Pro-Russia rebels guard a road leading to wreckage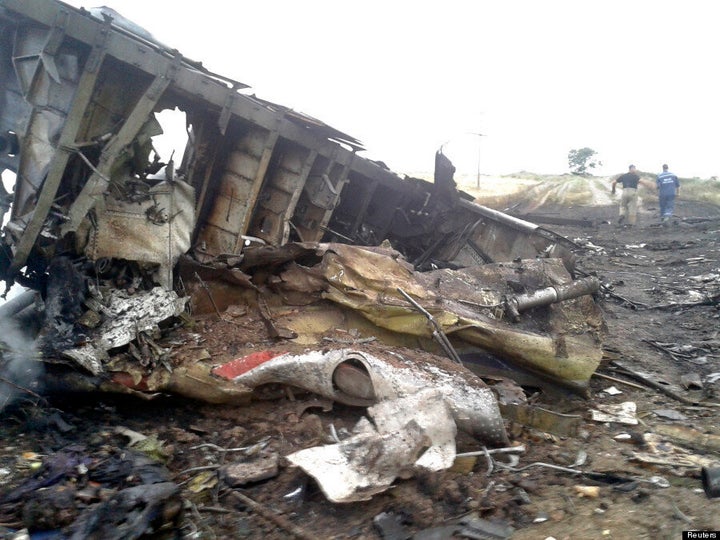 A close-up of the debris from the Malaysia Airlines plane
Flight MH17 went down in the conflict-torn region of east Ukraine on Thursday, killing all 298 people on board. The toll includes 189 Dutch, 44 Malaysians, 28 Australians, 12 Indonesians and 10 Britons. One of the victims was a US citizen, holding both Dutch and American passports.
The crash scene, which spreads over more than 50 square kilometres, has not been secured because it is in separatist-controlled territory.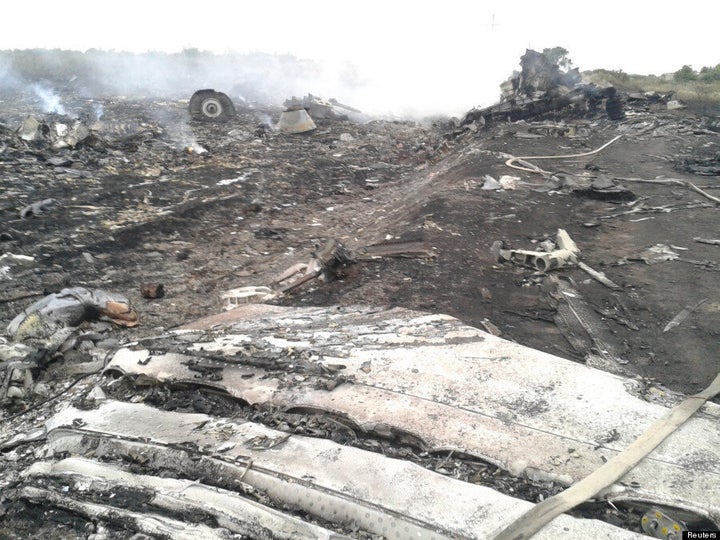 The Malaysian airliner was shot down over eastern Ukraine
According to the newspaper, international monitors, who had only recently gained access to the area, found that the cockpit of the plane had been breached with a saw. Until Monday, Russian-backed separatists had controlled the site.
It is unclear who damaged the plane or why.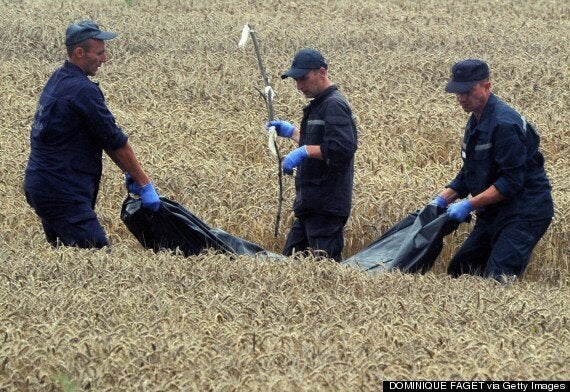 Fergal Keane, a BBC correspondent, confirmed USA Today's report. Investigators told Keane that the plane had been hacked into with a diesel-powered saw. Keane said that the first-class area had been found damaged.
President Obama lashed out at Russia on Monday for blocking access to the crash site, asking, "What exactly are they trying to hide?"
On Tuesday, the EU announced increased sanctions on Russia in light of the crash.
The intelligence officials said the most likely explanation for the downing was that the rebels made a mistake. Separatists previously had shot down 12 Ukrainian military airplanes, the officials said.
The officials made clear they were relying in part on social media postings and videos made public in recent days by the Ukrainian government, even though they have not been able to authenticate all of it.
For example, they cited a video of a missile launcher said to have been crossing the Russian border after the launch, appearing to be missing a missile.