A computer repair firm in Bristol pulled out of the government's workfare scheme just days after being visited by George Osborne to promote its involvement in the controversial initiative.
Byteback IT Solutions provoked outrage on social media after the Chancellor visited to celebrate its involvement in the Help to Work programme, which puts long-term unemployed people on unpaid 'community work placements".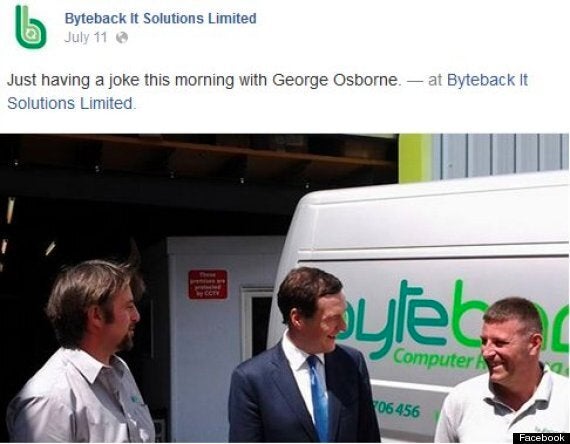 The moment that sparked a social media storm
The IT firm ended up being deluged with hundreds of complaints on Facebook and Twitter protesting at its involvement, as jobseekers are threatened with having their benefits stripped if they did not take part in their unpaid placements.
Speaking during his visit at the firm earlier in July, Osborne told the Bristol Post: "I'm here to see what more we can do to help the long term unemployed to get back into work.
"This is a new scheme and from what people here are telling me it is better tailored for people who have been out of work for too long."
Byteback which repairs old computers and supplies poor families with recycled machines, rejected accusations of "slavery" as it insisted the two unpaid workers were "employees of the state", but days later it decided to end its involvement with the scheme.
"You've spoken, we've listened. From tomorrow, no more involvement ever with #workfare. Had the best of intentions, we were wrong," the IT firm, which had taken on two unpaid job-seekers, wrote on its Facebook page.
Treasury sources now branded the backlash against Byteback's involvement in the Help to Work scheme "outrageous" and hit out at the "unacceptable intimidation" that led to them pulling out.