Surgeons have removed 232 teeth from the mouth of an Indian teenager.
Ashik Gavai was admitted to JJ Hospital in Mumbai last week with swelling in his lower jaw.
The 17-year-old was suffering from a condition known as complex odontoma or benign tumour of the tooth, head of dentistry Sunanda Dhivare-Palwankar said.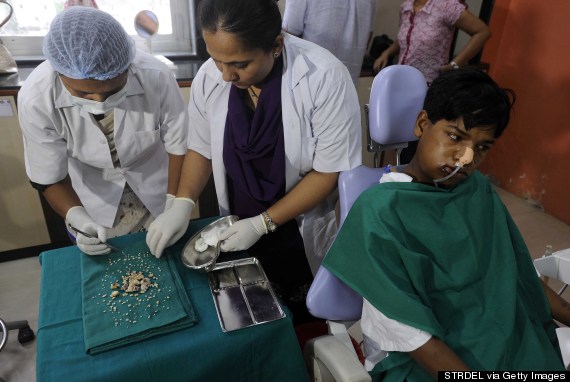 Ashik Gavai had suffered swelling in his face for several years before seeking medical help
"We operated on Monday and it took us almost seven hours. We thought it may be a simple surgery but once we opened it there were multiple pearl-like teeth inside the jaw bone," she said in comments reported by the Guardian.
As well as the 232 teeth there was another hard, rock-like formation which she could not remove with a dentist's drill.
She told the India Times: "We had to resort to the age-old, now outdated 'chisel-mallet' procedure to break down that formation as it was putting immense pressures on the jaw bone and surrounding healthy teeth."
She said neither her nor her team and seen or heard about anything comparable and added: "We believe this to be a world record but we will carry out more research before taking any further steps in the matter."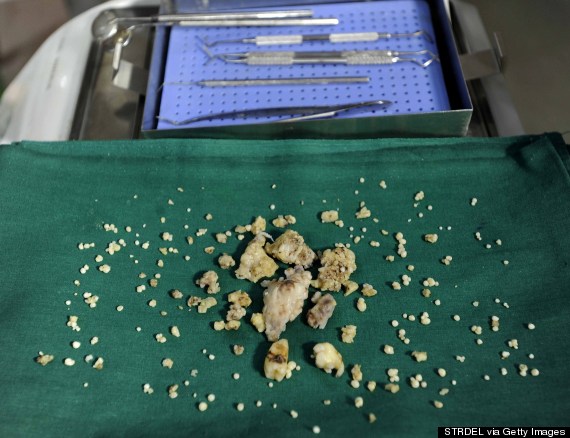 232 teeth and a further, larger tumour were extracted from his jaw
She says the previous number of teeth extracted from a similar tumour was 25.
Gavai now has a normal set of 28 teeth and tooth caps will be inserted to replace the removed teeth once he has recovered.
Dr Vandana Thorawade told the Mumbai Mirror medics had been worried the tumour would break the teenager's jaw.
He said: "We had the jaw plates and screws ready in case of emergency, but miraculously his jaw was intact. Had he waited for longer, there were chances that his jaw bone would have been damaged."
He added: "Thought we tried out best to removed every bit of tooth, there may have been some residual left. In that case there are chances of those growing back. We have told the family that regular check-ups and investigations are a must."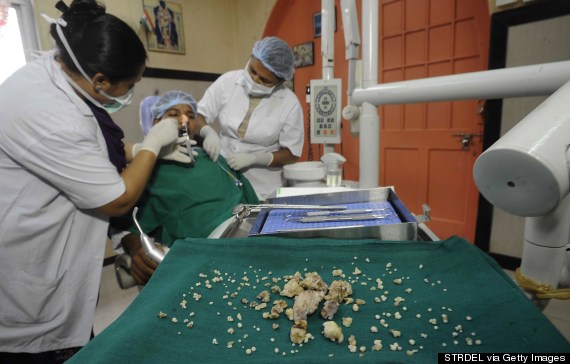 Medics operated for seven hours on Monday to remove the teeth