The Sudanese mother sentenced to death for her Christian faith whilst pregnant with her baby daughter is safe at last, arriving in Italy after spending more than a month living in the US embassy in Khartoum.
Meriam Yahia Ibrahim, along with her husband and two children were met at Ciampino airport in Rome by Italian Prime Minister Matteo Renzi, who called it a "day of celebration." Her journey to Europe had been a closely guarded secret, with no prior indication that Italy was involved in her release. Ibrahim's husband Daniel Wani has US citizenship and the family are believed to be en-route to the United States.
A smiling Ibrahim, in a rainbow-striped t-shirt, came down the steps of the plane with her baby daughter in her arms, as Lapo Pistelli, Italy's vice-minister for foreign affairs, carried her young son who hooked his little hands round the politician's jacket. Wani, who suffers from muscular dystrophy, followed them in his wheelchair.
Ibrahim was given a reprieve from a death sentence handed down because she refused to convert to Islam. Born to a Christian mother and Muslim father, Ibrahim was raised in her mother's faith, but under Islamic law she is considered a Muslim because of her father's religion, and a court said she had committed the capital offence of apostasy.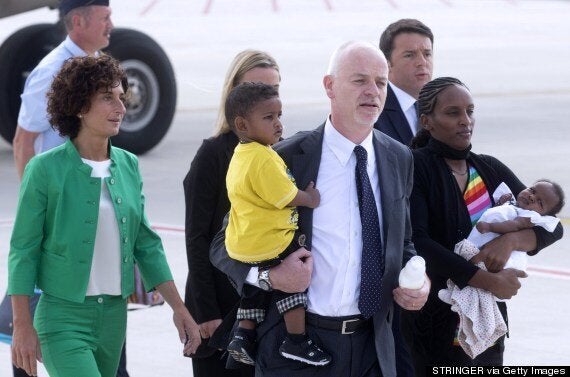 Sudanese Christian Meriam Yahia with Italian Deputy Foreign Minister Lapo Pistelli
Pregnant at the time of her sentencing, Ibrahim gave birth to a daughter, Maya, whilst shackled to the ground in the prison, next to her 18-month-old son Martin who was kept in the cell with her. The case caused international outcry, with thousands calling on the government to release Ibrahim.
Sudan's government is believed to have approved her departure, after several attempts to block her leaving the country after she was given a reprieve from her death sentence last month. The government claimed that travel documents she had attempted to use were forgeries.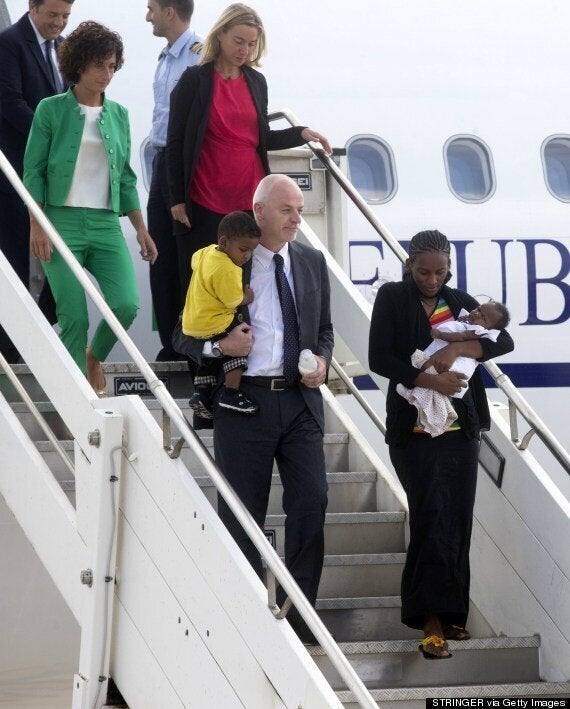 The family arrived at the Ciampino airport in Rome
Pistelli was with the family on the flight from the Sudanese capital, and posted a Facebook image of the five touching down in Rome with the caption "Mission accomplished".
Ibrahim's father's family, who have been the driving force behind her detention, have filed a lawsuit trying to have her marriage annulled, claiming a Muslim woman is not allowed to marry a non-Muslim, like Wani.
Olivia Warham MBE, Director of Waging Peace, a UK NGO that campaigns in Sudan, welcomed the news of Ibrahim's departure to safety, but warned of continuing human rights violations in the nation.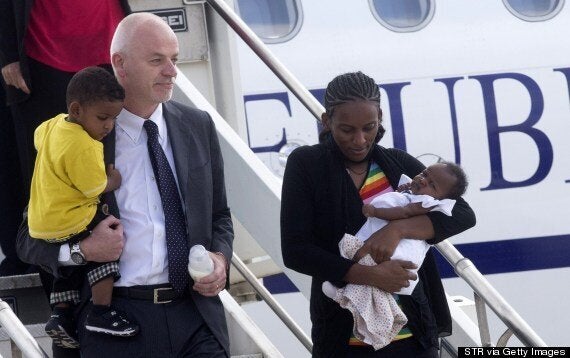 Meriam Yahia Ibrahim holds her daughter Maya as she descends from the plane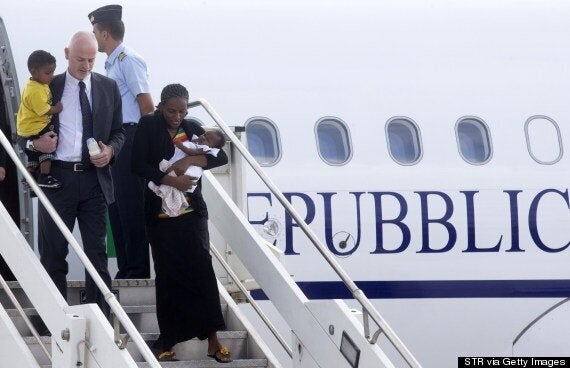 Ibrahim was sentenced to death for renouncing Islam, then acquitted after intense international pressure
"As we celebrate Meriam Ibrahim's long-overdue freedom we should also remember the millions of her fellow Sudanese Christians who daily face brutality and ethnic cleansing by the Sudanese regime," she said.
"Three years ago President Bashir made it plain there would be no room for non-Muslims in his Islamist Sudan. He has been good to his word, crushing dissent and systematically killing ethnic and religious minorities. Regular aerial bombardment by the Sudanese armed forces destroys communities and Christian hospitals, forcing people to flee from their fields to hide in the Nuba mountains.
"It is shocking that Bashir's ideology of elimination provokes nothing more than the occasional words of regret from the international community, when we should be applying targeted smart sanctions on the architects of these atrocities."