Team England announced the 31-year-old double Olympic and world champion, who was due to go for gold over 5,000 and 10,000 metres in Glasgow, had made good progress on his recovery from a recent illness, but had withdrawn to focus on getting back to full fitness in time for next month's European Championships in Zurich.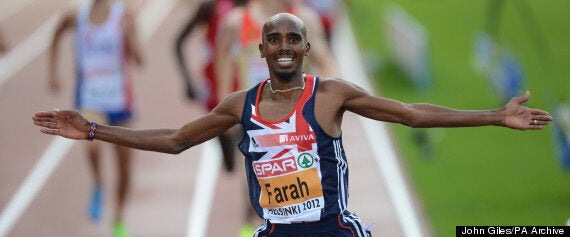 Mo Farah will focus on repeating his 5000m success of two years ago in Helsinki
Farah said: "I have taken the tough decision to withdraw from the Commonwealth Games. The sickness I had two weeks ago was a big setback for me."
The Londoner, who was set to be one of the biggest stars in Glasgow, pulled out of his last two races - the Sainsbury's Glasgow Grand Prix at Hampden Park and last Sunday's Anniversary Games - after being admitted to hospital in the United States with abdominal pains.
He has been training hard at his altitude base in Font Romeu in a bid to be fit for the Games, but they have come too soon. The 5,000m final takes place on the first evening of the athletics programme on Sunday.
Farah added: "Training is getting better here in Font Romeu but I need another few weeks to get back to the level I was at in 2012 & 2013.
"I really wanted to add the Commonwealth titles to my Olympic and World Championships but the event is coming a few weeks too soon for me as my body is telling me it's not ready to race yet. Best wishes to my fellow athletes in Glasgow."
Farah posted a photo of himself in training on Wednesday via Instagram but made no reference to his intentions to withdraw.
Team England chef de mission Jan Paterson said: "It is a real blow for any athlete to miss out on a major championships through injury, but to have fought so hard to regain full fitness and to have to take such a difficult decision at this stage is particularly hard. We wish Mo all the very best and hope to see him back to his peak very soon."
Farah's withdrawal comes three days after Katarina Johnson-Thompson, new mother Jessica Ennis-Hill's heir apparent, was forced out by a foot injury.
It means long jumper Greg Rutherford, who has himself withdrawn from his last two competitions for fitness reasons after struggling with a knee problem, is the only member of the golden trio from Super Saturday at London 2012 left in the England team.
Farah, who is in the Great Britain squad for the 5,000m and 10,000m for the Europeans, which get under way on August 12, has raced only once on the track this year - over 5,000m at the Portland Track Festival in June.
His previous race had been a chastening marathon debut on the streets of London when he came home in eighth place.
Glasgow 2014 chief executive David Grevemberg admitted Farah's absence was a blow.
He said: "There's no question we're disappointed that Mo Farah announced he would be withdrawing. We're very disappointed for Mo. We knew how much he wanted to be here.
"I'm sure there will be some disappointed people, but there are plenty of great athletes who are here and will be competing."