At least two people have died and more than 200 have been injured as Palestinians marched from Ramallah to East Jerusalem to protest against the Israeli campaign in Gaza. Organised by President Mahmoud Abbas's Fatah movement, more than 10,000 people are estimated to have taken part in the uprising, which was met by resistance from Israeli forces as it approached East Jerusalem. The event is being tweeted under the hashtag #48kMarch.
Further protests in the West Bank and East Jerusalem are expected following noon prayers on Friday, the last Friday of Ramadan, after the Palestinian Authority called for a "day of rage" over the bloodshed in Gaza.
Power of the oppressed : #Palestinian protester in al-Aqsa mosque confiscate Israeli occupation equipment #48kmarch pic.twitter.com/ToR5gWuaKr

— Hanine حنين (@Hanine09) July 25, 2014
Israeli media is reporting that the latest West Bank demonstration is the largest protest since the Second Intifada, which ended in 2005. The IDF reportedly employed "riot dispersal means" in an attempt to disrupt the demonstration. More than 800 Palestinians have died in the recent Israeli offensive, mostly civilians. The fighting has also claimed the lives of 33 Israelis.
STORY CONTINUES BELOW:
Amazing photo from #48kmarch #WestBank #SupportGaza pic.twitter.com/jgnZYwiQ3G

— Politics and Hip Hop (@politicsnhiphop) July 25, 2014
Palestinians in #Westbank should target anger on Palestinian Authority as all. No to collaborators #48kmarch #Gaza pic.twitter.com/zdsH6xlfA8

— Hanine حنين (@Hanine09) July 24, 2014
An Israeli army spokeswoman told the AFP news agency soldiers used "riot disposal means" to control the protest – a term used to cover weapons such as rubber bullets and tear gas.
She said: "There are thousands of rioters there. They are rolling burning tyres and throwing Molotov cocktails and fireworks at soldiers and border police.
"The soldiers are responding with riot disposal means."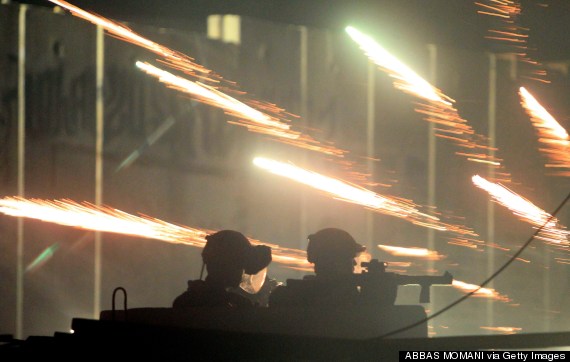 An Israeli security officer takes position as at least 10,000 Palestinian protesters marching against Israel's military offensive
According to Reuters, protests also broke out within the city of Jerusalem, close to the Al-Aqsa Mosque. Israel launched its offensive on the 8th July to stem the tide of rockets fired into the Israeli heartland from the Gaza Strip. Earlier on Thursday, 15 Palestinians were killed when a UN-operated school within Gaza was struck by shells.
The school was being used as a shelter by hundreds of Palestinians who have fled their homes since airstrikes two weeks ago.
It is the fourth time a UN facility has been hit during the recent conflict.
Thousands march from #Ramallah to Jerusalem, carrying on flag. #48KMarch #GazaUnderAttack #Gaza pic.twitter.com/vzf93MFd7K

— Hanine حنين (@Hanine09) July 24, 2014
The protests came ahead of a meeting of Israel's security cabinet to discuss a US-drafted proposal for a ceasefire in Gaza, Israeli public radio said.
UN Secretary-General Ban Ki-moon said he was "appalled" by the attack on the UN school.
Speaking in Cairo ahead of talks with US Secretary of State John Kerry, he said: "I was shocked and appalled by what has happened in Beit Hanoun. It is totally unacceptable."