Despite a flurry of air disasters and security scares shaking the airline industry this year, flying is apparently not only safe, but also about as safe as it's ever been.
In the wake of the two Malaysia Airlines flights lost this year and crashes in Taiwan and Mali, public concern about air safety has been amplified to levels arguably not seen since 9/11 in 2001 and the Lockerbie disaster in 1988.
For nervous flyers the air disasters in the past week alone could be enough to make them swear off ever stepping on a plane forever, but despite these high-profile and tragic incidents, you'd be wrong to think you're more at risk on a plane now.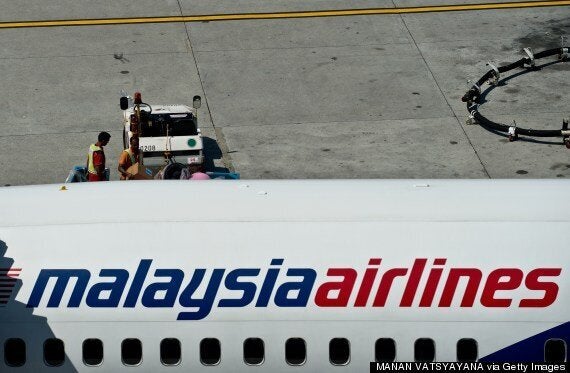 While more travellers have perished in plane crashes over the past week than in the entirety of 2013, statistics show air travel remains one of the safest forms of travel.
In fact, less than one in 2million flights last year ended in an accident that damaged a plane beyond repair, according to the
According to the Aviation Safety Network (ASN), which tracks airline safety statistics, 2014 will be one of the deadliest years for air travel since the 9/11 terrorist attacks, but is still part of a decades-long decline in both accidents and fatalities.
So far this year, 11 incidents have resulted in 644 fatalities, according to ASN data on flights carrying more than 14 passengers. The figures do not include Air Algerie Flight AH5017, which crashed Thursday with 110 passengers and six crew.
Chief among this year's figures is last week's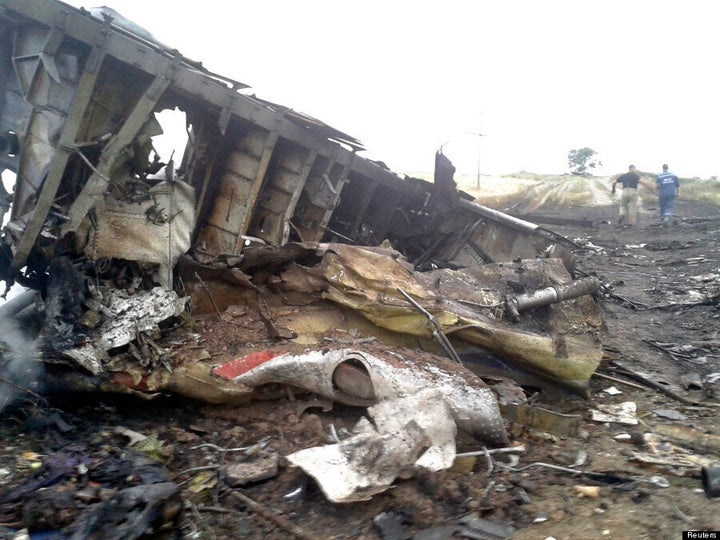 A close-up of the debris from the Malaysia Airlinesplane
The shoot-down doubled Malaysia Airlines' losses this year. The mysterious disappearance of
On Wednesday, 47 travellers died when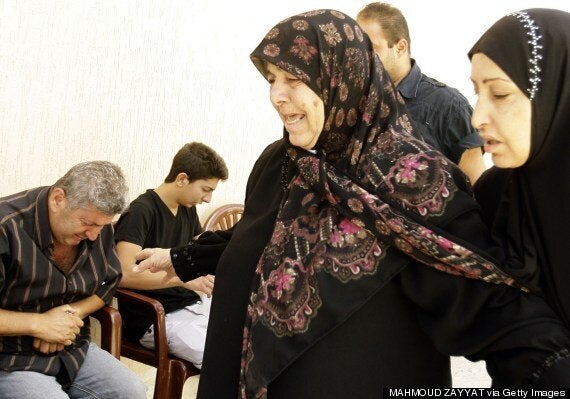 Relatives of a passenger who was aboard the Air Algerie plane
That tally makes 2014 the deadliest year since 2010, when there were 32 crashes resulting in 943 casualties, and well above the 10-year average of 376 fatalities.
While four planes in four tragedies just months apart would be enough to rattle even the most confident flyer, the issue facing travellers after a week of multiple tragedies is purely psychological, according to experts.
Paul Tizzard the co-founder of Virgin Atlantic's Flying Without Fear told The Huffington Post UK that the issue is a lack of control, where passenger are required to make a 'leap of faith', entrusting their lives to pilots, airlines, air traffic controllers and others who regulate air travel.
"In everything else that we do, we have an element of control. If I get on a train, I can get off at the next stop. If you're on a ferry, you can step outside onto the deck and you have this misguided belief that you can swim back to shore. None of it's completely correct, it's all to do with perceived control and perceived risk."
With air travel though, Mr Tizzard said nervous flyers can be made more anxious by the 'inhuman' nature of flying. Combined with heightened security fears and claustrophobia all thrown together in a machine that we have little understanding about how it works.
"You turn up, you're processed through the airport and you become a number," he said. "Then you sit with people you've never met and go through this weird sensation that humans have still not evolved enough to really understand.
"Without visual references, like those that the pilots at the front have, our brains tell us all sorts of weird stuff."
Despite the recent air disasters, Mr Tizzard said he hadn't seen an increase in clients, but acknowledged that nervous flyers may have had their fears exacerbated - particularly by media reports.
"It's impossible to avoid. But if you look at enough crashes, if you look at enough carnage, you won't help yourself.
"I've had emails from people saying that with the recent crashes, all in such quick succession, they're starting to feel more nervous.
"It's quite possible that fearful flyers would be feel more anxious after these recent events, it would be enough to put some people off."
The crashes come as global aviation leaders meet in Montreal next week to initiate discussions on a plan to address safety and security issues.
But for now, by the numbers, travellers face long odds on being in a fatal crash.
Flying on one of the world's major airlines, on any single flight, you have just a 1 in 4.7 million chance of being killed, according to PlaneCrashInfo.com, which tracked accident data from 1993 to 2012.
Even if you're flying on one of those with the worst safety records, your odds are still 1 in 2 million.