Scotland's 13-year-old Commonwealth Games hero Erraid Davies has been told she should target the Paralympics in Rio.
The next stop for the Shetland teenager will be age-group national championships in Sheffield next week, but her coach back home sees bigger targets on the horizon.
Davies became an instant Scottish crowd favourite when she won bronze at Glasgow 2014 on Sunday night in the para-sport 100 metres breaststroke.
Already her country's youngest ever team member at a Commonwealth Games, she finished strongly just behind Australian silver medallist Madeleine Scott in one minute and 21.38 seconds, with New Zealand's Sophie Pascoe taking gold.
Davies kept the fact she was spending her summer holidays in Glasgow a secret from her school friends, but they are bound to know all about it now.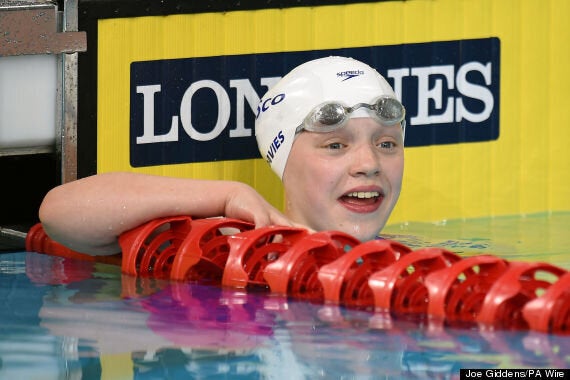 Davies celebrates after the Women's Para-Sport 100m Breaststroke SB9 heats at Tollcross Swimming Centre
"They didn't know before I came here. I didn't really know how to tell them," she said.
"I got a medal and I am so happy. I am feeling really, really happy."
When asked what she felt she could achieve in her sport, she said: ''I don't know. I am just going to keep on swimming and see where it gets me.''
But Davies' coach at the Delting Dolphins Swimming Club in Brae, on the Shetland mainland, was ecstatic to watch the race she feels will launch a push for a place at the Olympics in two years' time.
Coach Lorraine Gifford told Press Association Sport: "I was screaming at the telly. I'm known for being pretty loud, but I'm sure she could hear me.
"I started coaching Erraid when she was eight. We're all so proud of her.
"I think she'll cope with everything. It's great that she's done this. I hope she's enjoying herself.
"I think she can go to Rio for the Olympics. This has been the shot to launch her international career."