An airline will stop flying over Iraq for fear Islamist terrorists ISIS have weapons capable of shooting their planes down.
Emirates Airlines will not fly over Iraqi airspace, a detour which could add 45 minutes to flights, following claims the Islamist sect which has seized large parts of the country, has a stockpile of rockets in neighbouring Syria that it can use to shoot down commercial planes, long thought to be beyond the range of all but well-equipped militaries.
The airline's decision follows the loss of the Malaysia Airlines plane MH17, which is believed to have been destroyed by a surface-to-air missile from pro-Russian separatists as it flew at around 32,000 feet over eastern Ukraine.
Following the disaster, a senior officer at Malaysia Airlines, which is reeling from the loss of two planes this year, said an external body should decide which routes are safe to fly rather than leaving it to airlines to decide.
Commercial airliners routinely fly over warzones where combatants are not believed to be capable of shooting down aircraft flying at their altitude.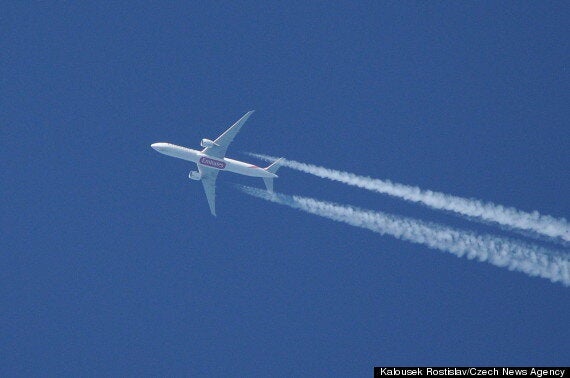 ISIS may be able to shoot down commercial airliners, it is feared
Sir Tim Clark, president of Emirates Airlines, said he believes other carriers would follow their example.
"This is a political animal but... the fact of the matter is MH17 changed everything, and that was very nearly in European airspace," Sir Tim told The Times (£).
"We cannot continue to say, 'Well it's a political thing'. We have to do something. We have to take the bull by the horns."
Many flights fly over Iraqi airspace, including over territory controlled by ISIS. This snapshot shows planes over the country today, including a flight to Washington DC that had just passed directly over the northern city of Mosul, which ISIS controls.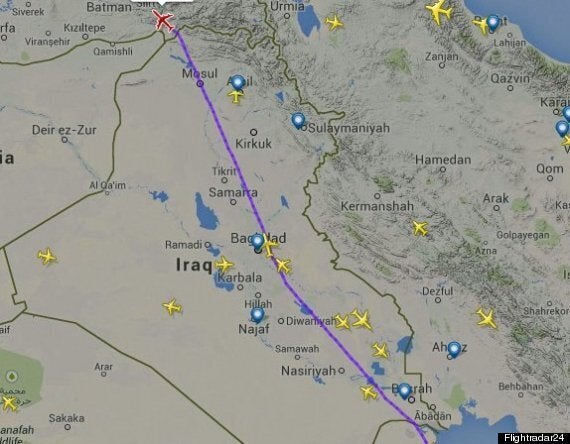 A snapshot of planes flying over Iraq on the morning of July 28, 2014
Sir Tim continued: "Ultimately, we need one body to be the arbiter of where we can fly. This tragedy has taught us that despite following the guidelines and advice set out by the governing bodies, the skies above certain territories are simply not safe.
"MH17 has shown us that airlines can no longer rely on existing industry bodies for this information. No longer should airlines bear the responsibility of deeming flight paths safe or unsafe. We are businesses, not agencies.
"And it is not reasonable for us to assess all of the issues going on in all of the regions in the world, and determine a safe flight path. For the sake of passenger and crew safety we need to insist on a higher level of authority."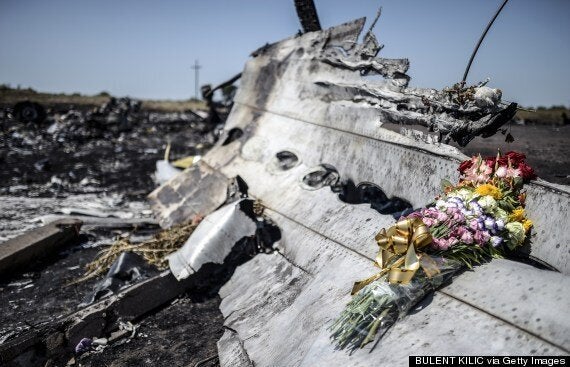 MH17 was flying at around 10km when it was shot down
Sir Tim also said the loss of MH17 was "very difficult to deal with".
He told the paper: "It is a slight on what you do. It suggests that you are not doing your job properly," he said. "From out of this ghastly, hideous mass murder if we are going to get anything out of it, it is that the airline community are minded to try and improve what they do."
Hugh Dunleavy, Malaysia Airlines's commercial director, said that individual airlines could not be expected to make decisions on which volatile regions are secure to fly over.
Despite flying over a conflict zone, MH17's flight path had been approved by the International Civil Aviation Organisation (ICAO), the Ukrainian authorities and the European airspace service provider Eurocontrol, Dunleavy said.
Writing in the Sunday Telegraph yesterday, he called for airlines and existing aviation bodies to "review existing processes and set more stringent standards".