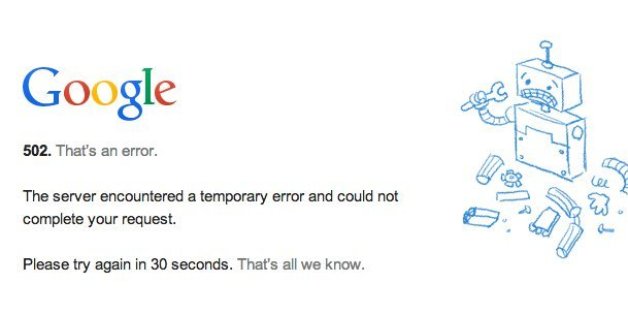 Google
On Tuesday 29th July, humanity glimpsed the apocalypse.
Instead of page after page of search results for cat videos, pictures of Gemma Merna or other bits of inane bits of internet frivolity that help us through our day we were greeted with this...
During approximately one entire minute people glimpsed the future.
For some it was a dystopian nightmare in which carefully crafted facades of personality would crumble without recourse to the internet - not even the cute cartoon broken robot could help them.
For others it was just an excuse to speak to some people in real life...
#Google is down. I'm now completely lost in life until it restarts

— izzy Roth (@izzyRothMusic) July 29, 2014
#google is down here.

let's talk with friends :D

— Julien Bayle (@julienbayle) July 29, 2014
Google appears to be down, how will I keep up the pretense of looking smart by just googling everything people ask me?

— Chris McCarthy-Stott (@mcstot) July 29, 2014
Google seems to be down. Is this is the end of the world as we know it ? ;) pic.twitter.com/Z1GJYYa8RL

— Nathalie Wormser (@NathalieWormser) July 29, 2014
Was Google down for a few minutes just now? Forgot everything I once knew in those few worrying moments.

— Tony Mogan (@TonyMogan) July 29, 2014
I can't even google 'why is google down' FFS. Oh well, I'll play POGS and go outside in the sun.

— Danny Major (@GuyFawkesRetro) July 29, 2014
Don't want to panic anybody, but Google is down!

— Scott Jones (@Bonobo13) July 29, 2014
UPDTAE: Google is now working fine, everybody calm down...