Lady Gaga has teased fans with details of her forthcoming album, but rather than the hotly anticipated follow-up album to 'ARTPOP', Gaga has teamed up with music legend Tony Bennett to release a collection of jazz standards.
Alrighty then.
The pair announced on Tuesday that they will be releasing their album of duets 'Cheek To Cheek' on 23 September, after first collaborating on a track for Tony's album 'Duets II'.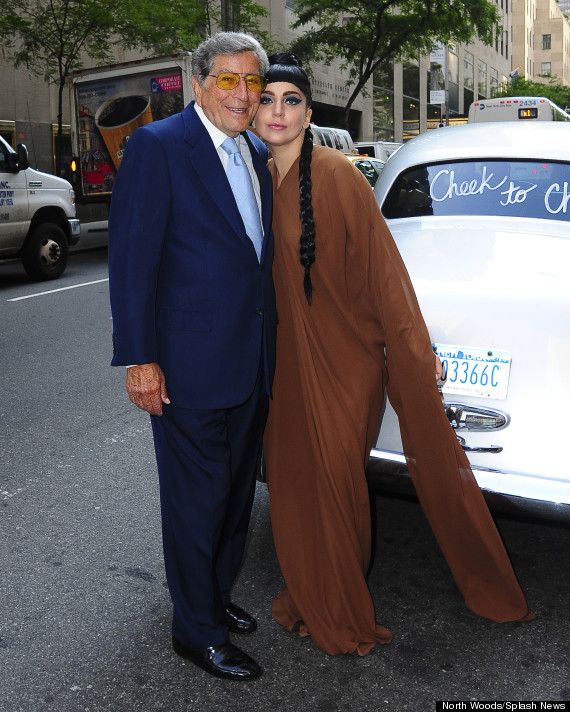 Lady Gaga and Tony Bennett promoting their new album on TODAY
During an appearance on TODAY, the two were full of praise for each other, with Gaga saying it feels "natural" to sing with Tony, adding: "The collaboration has just been so wonderful."
Their album will contain covers of jazz classics such as 'Bang Bang (My Baby Shot Me Down)', 'Sophisticated Lady' and 'It Don't Mean A Thing (If It Ain't Got That Swing)', as well as original tracks penned by Gaga.
During the recording process, the singers became close friends and Gaga even has a sketch of a trumpet that Tony drew tattooed on her arm, which she showed off during their joint interview.
Speaking about Gaga temporarily taking a break from pop to record their jazz album, Tony told La Presse last month: "I do not understand why she [Gaga] had to make contemporary music! When she sings great standards, she does it with such emotion... With this album, I think she will become bigger than Elvis Presley!"
They have now given fans a taste of what they can expect to hear on the album, unveiling a clip of the first single from the album, 'Anything Goes', and it's pretty much as far from 'Bad Romance' as you can get.
Have a listen for yourself below...
LIKE US ON FACEBOOK | FOLLOW US ON TWITTER