A huge blaze and plumes of thick black smoke have engulfed Eastbourne Pier.
Sun seekers at the popular seaside destination could only look on as the pier and its building went up in flames today.
Sussex police have confirmed that the pier was safely and quickly evacuated and there was no-one trapped by the fire when it broke out, but only the steel structure of the roof appears to now be left on the iconic building.
The sea end of the pier appears to be unaffected by the fire, but as the smoke has cleared, the scale of the devastation is obvious.
Most of it has gone of this building Eastbourne pier pic.twitter.com/v5yW0kD8fH

— Li Noormohamed (@lnoormohamed) July 30, 2014
The end of an era :0(

A very sad day for the south coast. pic.twitter.com/R55xVBQagO

— pauljwpb (@pauljwpb) July 30, 2014
Unbelievable scenes in #Eastbourne as a fire burns part of the pier @rdsmithTW pic.twitter.com/WyMpvT1N8T

— Claire Cottingham (@Cla_Cottingham) July 30, 2014
A galant effort by the fire and life boat crews, but it's just been too hard with the wind and a wooden structure. pic.twitter.com/m7vZAMEDLD

— pauljwpb (@pauljwpb) July 30, 2014
Eastbourne Borough Council described the fire as "tragic" as it continues to engulf the "much loved landmark".
Carolyn Heaps, cabinet member for tourism at the council, said: "Our first concern is for the safety of all those who work on the pier and those who were visiting the pier today.
"It is tragic to see this much loved Victorian landmark on fire."
The council said they would be liaising with the owners of the pier, Cuerden Leisure.
East Sussex Fire and Rescue Service are at the scene of the incident which has been documented by onlookers on Twitter. Pictures show people on the shore looking across at the building with its roof almost entirely consumed by flames and the sky filled with black smoke.
Locals thronged the beach and the promenade to watch the pier burn, and some spoke of their devastation as it erupted at the height of the all-important summer season for Eastbourne.
Just heard about Eastbourne pier !!!someone tell me it's still standing?! Most of my teenage years are memories of that pier !!

— Zoë Doano (@zoedoano) July 30, 2014
That's terrible about Eastbourne pier. Looks like it could be the end for it.

— Scott Balcony (@balconyshirts) July 30, 2014
In a fortnight's time, the seaside town hosts its biggest tourist event, the annual Airbourne air show on the seafront, which draws tens of thousands of visitors.
Debbie Leach, 46, watched from the beach as the flames engulfed the attraction. She said: "I'm really sad, I could cry.
"It's devastating to see this happen, particularly so close to Airbourne. I just cannot believe it." Another local, Lawrie Smith, said: "It's dreadful as I used to go on it when I was younger."
Tourist Sam Taylor, 54, said: "I just can't believe it. I've been coming here for years and to see it go up in smoke while I'm here is devastating.
"It's a beautiful pier. We had only been on it the other day to play on the amusements and take in the views.
"It's especially sad as the pier in Hastings suffered a bad fire a few years ago. For Eastbourne's pier to have a fire also is just terrible."
Heartbreaking to see this smoke & flames billowing out from my home town pier #eastbourne. View from the office. pic.twitter.com/udA7h7xthE

— Lizzie Stringer (@norahbetty) July 30, 2014
The heat is intense #Eastbourne pic.twitter.com/xnNvjTajCe

— Li Noormohamed (@lnoormohamed) July 30, 2014
Eastbourne MP Stephen Lloyd said the fire was a "real blow" for the town.
He said: "This is a dreadful event to happen to our lovely pier.
"I was working my office, which is only a couple of hundred yards away, when at around 3.30 someone came in and told me the pier was on fire.
"I rushed out and saw the roof ablaze. I quickly spoke to the fire service and police and thankfully it seems no one was harmed, though this has yet to be confirmed.
"I hope and pray that our wonderful pier has not been lost forever.
"I know that all of Eastbourne are now watching and waiting until the fire is put out so the damage can be assessed."
...it's really going for it now... #Eastbourne #pier #fire pic.twitter.com/ykKXwxoq9R

— Lee Markham (@LewisBoom) July 30, 2014
I'm close to tears over Eastbourne pier burning down, I have so so many memories at that place😭 so gutted

— beck (@5SecsOfSimpson_) July 30, 2014
The fire service said on its website: "East Sussex Fire and Rescue Service are at the scene of a fire at Eastbourne Pier.
Around 60 firefighters are now in attendance and tackling the fire, they said.
As stacks of black smoke belched into the sky and could be seen for miles around. A police cordon was repeatedly pushed back on the promenade as loud bangs emanated from the pier.
In this video, onlookers can be seen being asked to move further away from the pier as they comment on how they can feel the heat from the blazing building.
WARNING, STRONG LANGUAGE
Hastings pier, Brighton pier & now Eastbourne? Only thing left on it is Atlantis pic.twitter.com/8we4YVreiC

— Chelsea (@Chels4793) July 30, 2014
"A two storey building on the Pier measuring around 30 metres by 50 metres was well alight. The building is about 50 metres from the shoreline. A large plume of smoke can be seen above Eastbourne.
"Sussex Police and the Coastguard are also in attendance."
They said they would provide an update on the incident later.
STORY CONTINUES BELOW:
Eastbourne Pier is not the first pier to suffer from a blaze.
In 2003, the 148-year-old West Pier in Brighton was reduced to a mangled mass of metal by two major blazes within two months.
Southend-on-Sea Pier in Essex, the longest pleasure pier in the world at 7,080 feet (2,156 metres), was badly damaged by fire in 2005. A previous fire damaged it in 1976.
Grand Pier in Weston-super-Mare was badly damaged by a blaze in 2008, and in 2010 the grade-II listed Hastings Pier was almost destroyed by fire.
eastbourne pier! sad. happy memories! pic.twitter.com/bp0C5Gg3LQ

— ilse elfick (@ilsee47) July 30, 2014
No saving it now. Heartbreaking for Eastbourne. pic.twitter.com/tYqsWK5GsW

— pauljwpb (@pauljwpb) July 30, 2014
Tim Wardley, chairman of the National Piers Society, said the structures had suffered from fires during their 200-year history.
"When you have something that is made of wood, the risk of fire is always going to be sadly that much greater.
"Piers are at risk of being chopped in half by an errant boat, or suffering fire damage - they are constantly under onslaught from mother nature. That's a testament to the 61 which survive proudly after withstanding that onslaught over the last two centuries."
The saddest photos I've taken of Eastbourne Pier since I started by photography project a year ago pic.twitter.com/5FmiyrFMh0

— Amanda (@girlgonecoastal) July 30, 2014
Architect Tim Phillips, vice chairman of the National Piers Society, said: "My gut feeling with these fires is it is always an electrical problem - something shorts and flashes in a flammable void. They are so exposed to the elements, and you've got an intensely damp atmosphere.
"I wonder if it is something to do with the heavy rain we have had recently, and if the water has reached some wiring."
Massive fire on #Eastbourne Pier. Praying it can be saved. Photo from @dhscott23 pic.twitter.com/Qo4NBudblT

— David Sztypuljak (@daveszt) July 30, 2014
On its website Eastbourne Pier is billed as a "wonderful place", "the perfect day out" and "one of the most popular attractions in the UK".
It says it caters for all age groups and features an amusement arcade called Funtasia, the Waterfront Cafe Bar and Victorian tea rooms.
The pier is also home to the Atlantis nightclub and is a wedding venue which offers panoramic views across the south coast.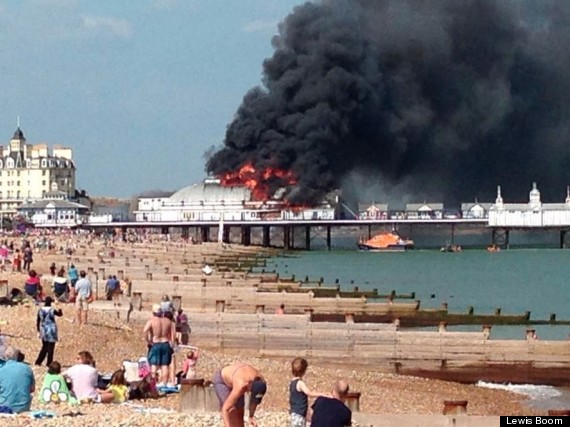 Beachgoers in Eastbourne watch the blaze take hold
The website says: "The Ocean Suite wedding venue is located at the end of Eastbourne Pier, reached via stairs to a private traditional terrace area, perfect for your drink reception, the suite can hold up to 180 guests and is glassed to three sides and bathed in natural light which gives a spectacular feeling of being on board a luxury boat."
It is not known if the fire has damaged this particular area of the pier.