NEW YORK -- Liverpool beat Manchester City on Wednesday, winning a penalty shootout 3-1 after the the top two teams in last season's Premier League played out an entertaining 2-2 draw at the iconic Yankee Stadium in New York. The game went to spot kicks after Raheem Sterling and Jordan Henderson pulled back goals from Stevan Jovetic.
Here are five conclusions drawn from the pre-season game in the Bronx.
Sterling could be a genuine world-class talent. Not a hyperbolic "world-class" talent, such as Wayne Rooney, Steven Gerrard or Ryan Giggs, but a real, generation-defining player. The 19-year-old winger came on in the second half and looked stronger, quicker and more direct than any of the 30 or so other players that took part in the evening's event. Of course, we've heard this type of laudation before for teenagers, many of who amounted to less than expectations. But… right now… Sterling really is very, very good.
This guy is not f*cking around. Robbed of his inaugural Premier League season through injury, the former Fiorentina striker looks like he's about to stick a lot of balls past a lot of gloves in the Barclays Premier League. There's nothing spectacular about his play, but during City's US tour, and particularly on Wednesday evening, the 24-year-old was the Manchester team's standout man. The Blues makes a glut of chances whoever the opposition so Jovetic is about to feast.
Within the Liverpool ranks packed into Yankee stadium on Wednesday were Daniel Craig and Mike Myers (see above) – James Bond and Austin Powers in the same patch of Bronx turf. You can only imagine the half time chat. "Can I get you a drink, Daniel?" "Vodka Martini, Mike." "Oh behave…" No celebrities were reportedly present for the City team – not even Noel (Gallagher or Edmonds).
It's a great story, but… Brendan Rodgers needs to buy another striker. Ricky Lambert has played less than a handful of games for his hometown club, and though he comes to Liverpool buoyed by an impressive season with Southampton, during the first half on Wednesday, he looked like he was still playing for the Saints. He'll no doubt be a great squad player, but he won't win Liverpool the league. If Lambert is starting against West Ham in the quarter finals of the FA cup, then Rodgers has done his job. If he's starting away to Bayern Munich in the Champions League, then the Anfield team has a problem.
Yes – it's a baseball ground, but New York City FC, who begin paying in the MLS at the stadium next season, will need to sort out to pitch. Having the football field over to one side to avoid the pitching mound doesn't quite work. They might want to remove the safety net from behind home plate as well. With two major teams occupying the stadium, they'll no doubt work out a fix, but at the moment, like the Man United midfield, it's all a bit lopsided.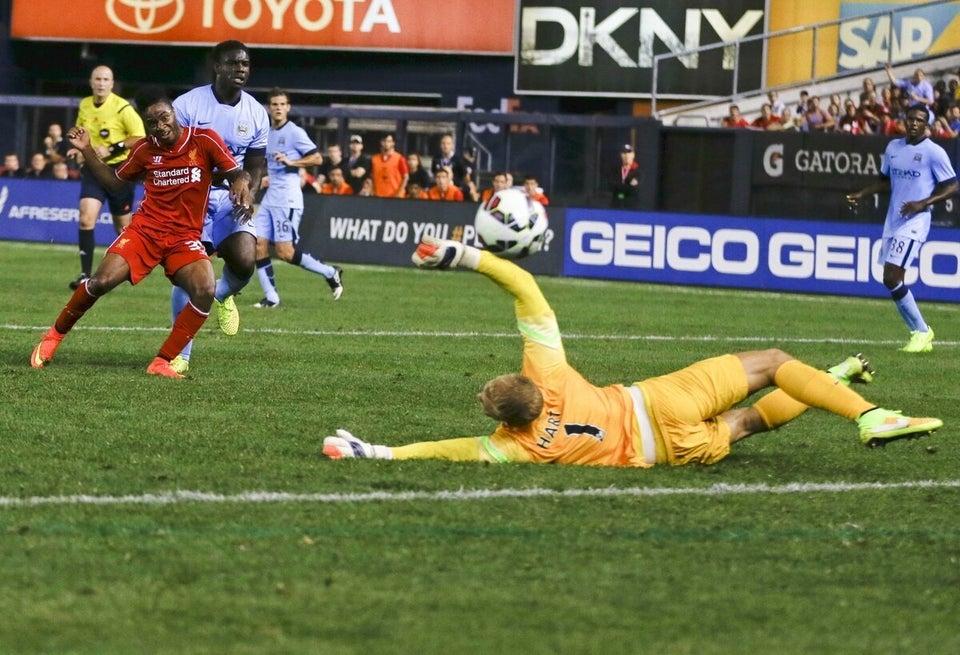 Liverpool 2-2 Manchester City