Since the video of Orlando Bloom appearing to square up to Justin Bieber appeared online, plenty of Beliebers have rushed to share their thoughts on the incident.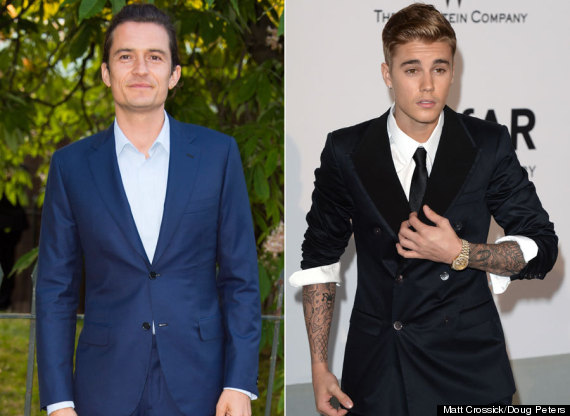 Orlando Bloom and Justin Bieber
While there have been many jokes on the matter, some Beliebers have taken the incident to heart and are rather outraged at the 'Lord Of The Rings' actor's behaviour.
Many have also commented that the actor was in the wrong to lash out...
Wtf orlando bloom punched justin ! how dare he did that ! #MTVHottest Justin Bieber #BestFandom2014 Beliebers

— THANK U JACOB ILY (@mybelieberlyf) July 30, 2014
Orlando bloom used to be cool but now I will find him and I will kill him no one hurts my baby 😠

— met cody 1/7/2014 (@ConfidentAngel) July 30, 2014
@SMaarieG Orlando bloom is in his 30s and is a father he should be the reasonable one and know not to hit someone. Bottom line.

— mel~5 (@delightedbiebs) July 30, 2014
With neither celeb commenting on the matter, a number of Twitter users have tried to come up with explanations for Orlando's apparent decision to approach the 'Boyfriend' singer...
Miranda Kerr cheated on Orlando Bloom with Justin Bieber. Hence why Orlando Bloom was trying to punch him in Ibiza. This is the funniest.

— Caitlin Bruce ✌️ (@CaitlinBruce_xo) July 30, 2014
idk why Orlando bloom tried to punch Justin but i think it had something to do with Miranda Kerr. #bieberupdate

— Justin Bieber Update (@OLLGofTORONTO) July 30, 2014
DID ORLANDO BLOOM PUNCH JUSTIN BIEBER IN THE FACE BECAUSE HE PRONOUNCED IT "IBIZA" AND NOT "IBIZA"

— Anne T. Donahue (@annetdonahue) July 30, 2014
Maybe Orlando Bloom punched Justin Bieber in the face because he was just being a dick

— Laura Kate ♔ (@pinkpalmgirl) July 30, 2014
Justin appears to have now left Ibiza and shared a photo of himself boarding a private jet on Instagram.
He's also tweeted the link to a video of himself accepting a charity award, accompanying the clip with the word 'real'.
The incident took place at Cipriani restaurant on the White Isle and sources claim their clash could have been over Orlando's ex Miranda Kerr, who apparently got close after meeting in 2012.
Justin added fuel to the fire by posting a photo of Miranda on Instagram after the incident, though he has since deleted it.
LIKE US ON FACEBOOK | FOLLOW US ON TWITTER