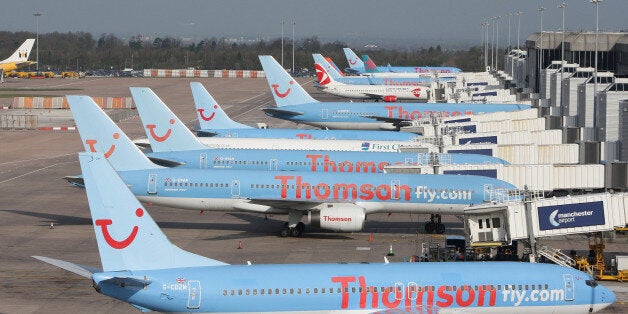 A plane had to be diverted to Gatwick Airport last night after a woman allegedly unleashed a foul-mouthed tirade and threw her prosthetic leg at cabin crew.
A Sussex police spokesman said trouble kicked off when the woman, 48, began "swearing blue murder" and throwing food at staff on the Thomson Airlines flight 297.
She was escorted from the aircraft by police, as relieved fellow passengers reportedly broke into a rousing rendition of the Hokey Cokey, the Scotsman reported.
Fed-up passengers told of their anger at the mid-air meltdown on Twitter.
"She was shouting 'I want cigarettes' and that she wanted a parachute to jump off the plane.
"She slapped a young girl and then assaulted the cabin crew with her prosthetic leg.
"They took it off her, but she started kicking them with her good leg.
"It sounds funny, but it was not a laughing matter at the time. It was serious. She was totally drunk. It was pretty shocking."
The captain became so alarmed by her behaviour that he diverted the plane, which was flying from Enfidha in Tunisia and destined for Edinburgh, to Gatwick.
The woman, who is unemployed and from Edinburgh, was arrested by police at the North Terminal at 10.22pm last night.
She was taken to Crawley police station where she is being quizzed by officers on suspicion of using threatening behaviour.
In a statement, Sussex Police said: "At 10.22pm on Wednesday (30 July) a 48-year-old unemployed woman from Edinburgh was arrested at the North Terminal, Gatwick Airport, on suspicion of using threatening behaviour while aboard Thompson flight 297 from Tunisia to Edinburgh.
"The flight was diverted into Gatwick after it was alleged the woman had been abusive and had thrown a prosthetic leg and food at cabin crew."
A spokesman added: "She was swearing blue murder, saying she was going to do this and that and the other, so the flight was diverted to Gatwick."
But he refused to comment on reports the woman was drunk when the alleged attack took place.
In a statement, Thomson Airways said: "Thomson Airways would like to apologise to passengers for the diversion into Gatwick airport of flight TOM 297 travelling from Enfidha, Tunisia to Edinburgh on 30th July.
"Unfortunately a passenger became disruptive on board and as a last resort the captain decided to divert the flight to Gatwick. Upon landing, the aircraft was met by local police and the passenger was removed for questioning.
"We would like to reassure customers that their safety is our priority at all times. Thomson Airways operates a zero tolerance policy with regards to any disruptive behaviour on board and incidents of this type are extremely rare."