Usain Bolt landed his first Commonwealth Games gold medal in the 4x100 metres and warmed up for his latest triumph by dancing to The Proclaimers.
Hampden Park was rocking as The World's Fastest Man danced to the Edinburgh band's "I'm Gonna Be (500 Miles)", the unofficial anthem of the Scotland national team, who play their home fixtures at Hampden.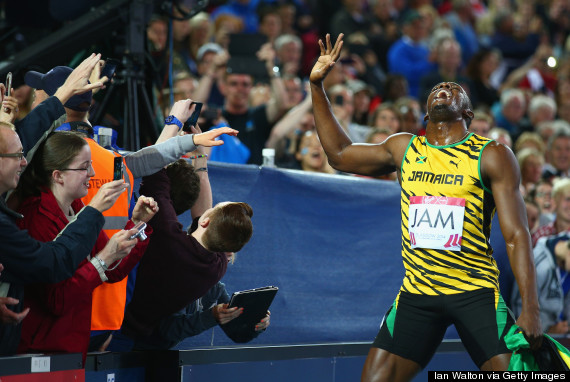 Bolt savours another gold medal
Whenever the Tartan Army score at the Glasgow ground The Proclaimers' most famous song usually blares out of the tannoy, and Bolt lapped up the carnival atmosphere on the penultimate day of the Commonwealth Games.
Bolt ended his controversial stay in Glasgow by powering down the home straight to bring his team home in 37.58 seconds, a Games record.
The 27-year-old would have had every reason to grumble about the weather on Saturday night after rain hammered down and puddles littered the track, but he received the baton in the lead and powered away to the roars of the crowd.
Michael Johnson said he had to focus from moment he woke up on morning of a race. Bolt danced till seconds b4 4x100 to Proclaimers! So easy.

— Alex Stone (@AlexStone7) August 2, 2014
Usain Bolt dances to 500 miles by the Proclaimers. Now there is a sentence I never thought I would write.

— Ben Smith (@BenSmithBBC) August 2, 2014
Dancing and joking around to the Proclaimers, then he goes and crushes the opposition! Usain Bolt brings Jamaica home for the 4x100m Gold!

— Ladbrokes (@Ladbrokes) August 2, 2014
Usain Bolt, dancing in front of a full Hampden, to the Proclaimers. Beautifully bonkers. #CWG2014

— SimonNRicketts (@SimonNRicketts) August 2, 2014