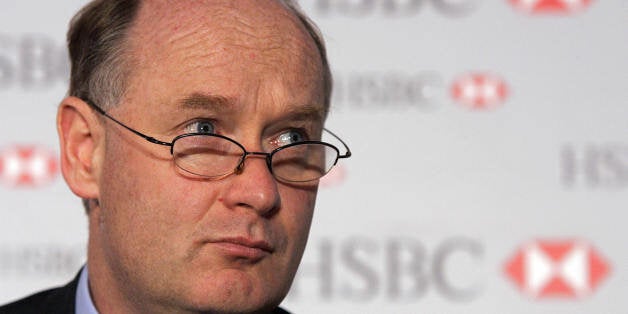 Britain's biggest bank HSBC has warned over the dangers of "unwarranted risk aversion" as bankers seek to protect themselves following the recent wave of industry scandals.
The bank's chairman Douglas Flint said he fears that such behaviour in decision-making could have the result of restricting access to the financial system.
His comments came as the bank announced a 12% drop in half-year profits to 12.3 billion US dollars (£7.3 billion), impacted by lower financial market volumes.
Flint said: "Greater focus on conduct and financial crime risks at all levels of the firm globally is clearly the right response to past shortcomings.
"There is, however, an observable and growing danger of disproportionate risk aversion creeping into decision-making in our businesses as individuals, facing uncertainty as to what may be criticised with hindsight and perceiving a zero tolerance of error, seek to protect themselves and the firm from future censure.
"We can address this behaviour through training and leadership, but we also need clarity from public policy and regulatory bodies over their expectations in this regard."
Flint said unwarranted risk aversion threatened to restrict access to the formal financial system to "many who could benefit from it".
He added that the cumulative workload arising from regulatory reform was "hugely consumptive of resources that would otherwise be customer facing".
He highlighted its requirement to perform multiple stress tests, as well as the impact of the UK's ongoing competition review and moves towards the establishment of a ring-fence of its risky trading activities by 2019.
The UK's big four banks - which include HSBC - are currently facing a full-scale competition probe that could result in a shake-up of the sector and even see them broken up.
And newly confirmed rules - which will come into force in January in time for the next round of City bonuses - will mean pay-outs can be clawed back up to seven years after they are handed out.
The bank has more than 250,000 staff worldwide. It said concerns over the pace of the economic recovery in many major markets and a backdrop of geopolitical tensions meant it was not the right time to expand its risk appetite to offset the effect of lower revenues.
HSBC has slashed more than 40,000 jobs and disposed of over 60 businesses over the last three years under a cost-cutting drive by chief executive Stuart Gulliver. Shares were 2% higher following the results today.