For tens of thousands of ethnic minority men, women and children in Iraq, they face a bleak choice - face execution at the hands of ISIS, or starvation in hiding in the mountains.
Thousands from the Yezidi Kurdish minority are now in hiding in the northern mountain ranges, after the men were threatened with beheading and the women into forced prostitution, according to local reports. Yezidis practice a version of the ancient Persian religion of Zoroastrianism, and as a sect they were once deemed 'devil worshippers' by Sadaam Hussein's regime.
ISIS forces this week seized more new territory including many northern Kurdish towns and the predominantly Yezidi town of Sinjar.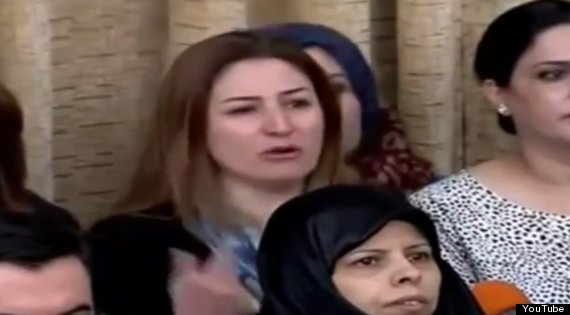 Fiyan Dakhee, a Yezidi member of Iraq's parliament broke down discussing the crisis
One Iraqi-Yezidi member of parliament collapsed after a tearful and feverish speech, urging the government and international forces to help her people
"As we speak there is genocide taking place against the Yezidis. My family is being butchered." Fiyan Dakhee, a Yezidi member of Iraq's parliament said in an impassioned speech yesterday, translated by Bloomberg. "'My family is being butchered.'
''Our women are being used as concubines and sold in the markets. Please save us, Save us.''
Dakhee said 30,000 families had fled, and had been without food and water for 48 hours, adding that 70 children and 50 elderly Yezidis had already died of thirst and exhaustion in hiding. More than 500 men had already been executed by ISIS she said, her eyes thick with tears. "An entire religion is being exterminated from the face of the earth. Brothers, I appeal to you for the sake of humanity, save us."
Dakhee's heartbreaking plea comes as it was reported ISIS militants snatched large numbers of children from Yezidi families in towns they have occupied, according to McClatchy.
"It is a humanitarian tragedy," Housam Salim, the head of the Solidarity and Brotherhood Yezidi Organization told Bloomberg. "Men were executed in the streets, women were kidnapped and raped. When we are captured, they kill us immediately, and they take our women."
Yezidi Kurds flee Isis in Shenal region, west of Mosul #Kurdistan #Iraq http://t.co/klQHNu2fZT pic.twitter.com/5N0Vn8ZTji

— Fazel Hawramy (@FazelHawramy) August 4, 2014
Tens of #Yezidi women & children sought refuge in mountains r reported died of hunger and dehydration #TwitterKurds pic.twitter.com/yYOHjkITIZ

— Mutlu Çiviroglu (@mutludc) August 5, 2014
Families who fled the area are in immediate need of urgent assistance, including up to 25,000 children who are now stranded in mountains surrounding Sinjar and are in dire need of humanitarian aid including drinking water and sanitation services.
UNICEF has appealed for more protection to be given to fleeing families. "Sinjar, a district of Ninewa in northwest Iraq with a population of at least 150,000 children - including many who are internally displaced - was taken over by the Islamic State (formerly known as ISIS) on Sunday," the organisation said in a statement.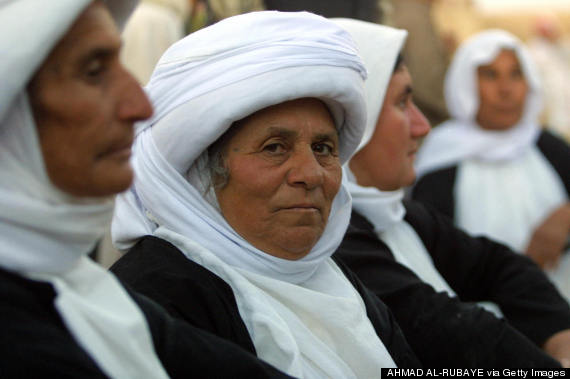 Yezidi women in traditional dress attend a ceremony in the village of Haktien, some 20 kms from the northwestern Iraqi-Syrian border
"Children are particularly vulnerable, and are most affected by the continuing violence, displacement and fighting in Iraq. UNICEF repeats its urgent call for all children in need to be protected and immediately provided with life-saving assistance to prevent further loss of life.
"UNICEF calls all those who have influence to immediately grant children and women free and safe access to areas of refuge and respect the special protection afforded to children under international humanitarian and human rights law."
Mark Lyall Grant, the British ambassador to the UN Security Council said in a statement: "Widespread or systematic attacks directed against any civilian populations because of their ethnic background, religion or belief may constitute a crime against humanity, for which those responsible must be held accountable."